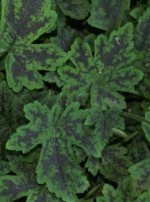 Introduced in 2009 as part of the River Series of Tiarella cordifolia, 'Susquehanna' is a fast growing ground cover for shade. It's diminutive size belies its ability to spread up to 24" in a single season. Unlike traditional tiarellas, 'Susquehanna' spreads by runners instead of forming clumps. The leaves are deeply lobed and have purple markings that deepen in color as the summer progresses. The foliage is semi-evergreen, remaining until March when it is overgrown by new foliage. In late spring to summer, tiny white flowers are produced on slender stems 6 to 8 inches tall.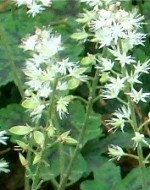 Type: Herbaceous perennial
Bloom: Tiny white flowers are produced on slender stems in late spring into early summer.
Foliage: Semi evergreem deeply loved leaves have purple markings
Size: 2-4" H x 24-36" W (flowering stems 6-8" H)
Light: Full to part shade
Soil: Average, moist well drained
Hardiness: Zones 4-9
Care: Low maintenance
Pests and Diseases: None of significance
Propagation: Division
Companion plants:Fferns, hosta, Japanese maple, oakleaf hydrangea, Virginia sweetspire, early spring bulbs, coral bells (Heuchera), bleeding hearts (Dicentra spp.).