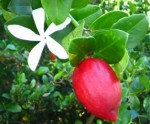 This evergreen shrub has shiny dark green leaves, sharp spines, and fragrant white or pink fragrant flowers that are followed by edible red fruit.  The sweet cranberry flavored fruits are about two inches across and can be eaten raw or used for pies, jellies or preserves.  Originally the shrub was grown for the fruit but more recently cultivars have been developed for ornamental purposes, especially ground covers, with the fruits an attractive and tasty addition.  Native to Natal where it grows along the coast, this shrub is very tolerant of wind, salt spray, and soil salinity so makes an excellent plant for sea side gardens.  It's substantial thorns make it useful for barrier hedges and its dense green leaves makes it a good screen. Sprawling cultivars make good ground covers.  For those living in colder areas, Natal plum can be grown in a container and taken in doors during the winter. It can also take the wind of a balcony location.  There are many cultivars so check local nurseries for one that suits you needs and wants.
 Type:  Evergreen shrub
Outstanding Features: Fragrant flowers; red edible berries; salt tolerance
Form: Upright to prostrate depending on the cultivar
Growth Rate: Fast
Bloom:  Fragrant white or pink waxy star-like flowers, two inches across, with five petals; flowers are continuously produced and are followed by edible red fruit two inches in diameter; peak season May-September.
Size:  1 1/2 – 30' H  and equal width depending on the cultivar
Light:  Full sun for best flowering and fruit production but tolerates some shade.
Soil:  Prefers average, well-drained soil but tolerates a wide variety of soil types;  moderate drought tolerance; high salt tolerance; does not tolerate water-logged soil.
Fertilizer: Apply a standard balanced fertilizer in spring for good fruit yield.
Hardiness:  Zones 9-11
Care:  Prune dwarf varieties regularly to maintain small, compact habit.
Pests and Diseases:  Susceptible to leaf spot, anthracnose, galls, cankers, thread blight, root rot, spider mites, thrips, scale, and white flies.
Propagation:  Species by seed; cultivars by cuttings, layering, and shield-budding
Outstanding Selections:
'Green Carpet' (18")
'Boxwood Beauty' (thornless dwarf with compact mounding habit; variegated form also available))
'Prostrata' (low growing spreader).