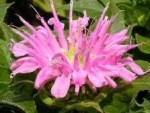 One of the workhorses of my garden is the diminutive beebalm 'Petite wonder'. My five plants occupy a sunny moist (but well drained) spot in a border and have bloomed all summer long in spite of heat, humidity, and abundant rainfall that has put mildew on the phlox. Yet no mildew or any other disease or pest has touched these little gems. Butterflies, hummingbirds, and bees love them but the deer leave them alone (and eat the phlox instead). The foliage is dark green and the plants form dense rounded mounds. I have had one plant for four years and it has grown about 3 inches bigger in diameter but certainly does not have the rambunctious growth that some of its cousins have.
Type: Herbaceous perennial
Bloom: Dense heads of fragrant medium pink tubular flowers are borne on stiff square stems from July through August.
Foliage: Dark green serrate leaves.
Size: 10-12" H x 10-12" W
Light: Full sun with afternoon shade in hot climates
Soil: Rich, humus, moist, well-drained
Fertilizer: Apply a balanced fertilizer in spring.
Hardiness: Zones 3-8
Care: Deadhead to prolong bloom; divide every 3-4 years to maintain vigor
Pests and Diseases: Powdery mildew and rust can be problems.
Propagation: Division in spring.
Companion plants: Veronica 'Goodness Grows' (or similar), lamb's ear, annual ageratum
Comments: Good in containers.