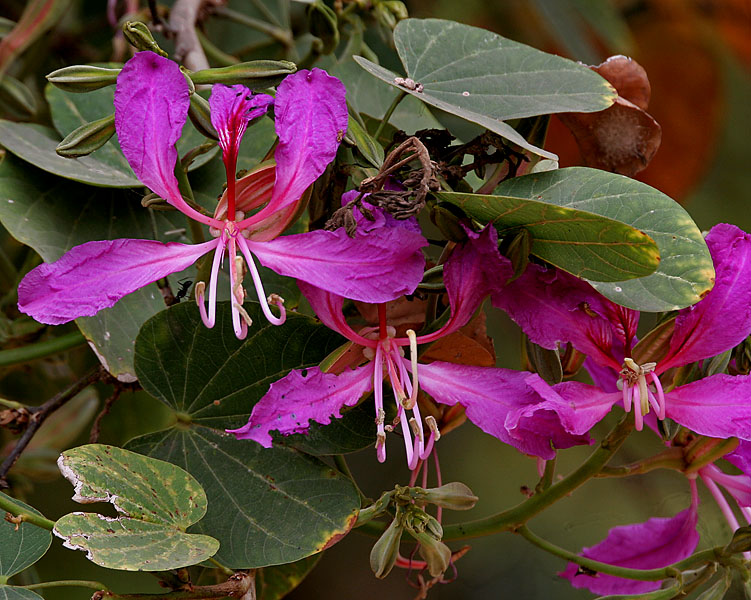 Also known as butterfly tree and Hawaiian orchid tree, this tropical deciduous shrub or small tree is native to India and Myanmar and is a member of the legume family, Fabaceae, that also includes peas, mimosa, and black locust. The trees grow up to 32′ tall and have a slender erect stem with crooked branches. The rounded green leaves are 4-8″ long and bilobed at the base and tip. The showy fragrant 5″ wide flowers appear in fall and have five pink, purple and lavender petals. The fruit is a flat, dry pod 6-12″ long with 12-16, seeds. It persists into winter and contributes to a litter problem in the spring when it falls. The trees are very attractive when in flower but are messy and can become invasive. The flowers, leaves, seeds, and fruit are edible, and the root, bark, and flowers are used in traditional medicine. The genus name, Bauhinia, honors the Bauhin brothers, Gaspard and Johann, Swiss-French botanists. The specific epithet, purpurea, is the Latin word meaning purple and refers to the flower color.
Type: Tropical deciduous shrub or small tre
Outstanding Feature: Flowers
Form: Vase-shaped; rounded
Growth Rate: Rapid
Bloom: Showy, fragrant, pink purple and lavender five petaled flowers in fall
Size: 31'H x 29′ H
Light: Sun to partial shade
Soil: Average, consistently moist, well-drained; tolerates drought, and acidic and saline conditions.
Hardiness: Zones 9-12
Care: Prune to create strong structure; clean up seed pods and branches in spring, leaves in fall.
Pests and Diseases: Generally healthy but susceptible to damage by borers, caterpillars, mites, leaf spot and leaf scorch disease.
Propagation: Seed
Outstanding Selections: None available
Photo Credit: J. M. Garg Wikipedia