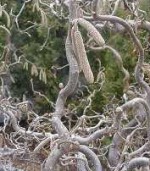 If the name of the shrub is not enough to pique your curiosity, the stems and flowers will. The cultivar name 'Contorta'gives you hint of what to expect…twisted branches. But they are beautifully twisted and coiled branches and look fabulous in the winter garden as well as in vase arrangements anytime of year. In the spring before the leaves appear, the shurb will be covered with clusters of catkins, slim, pendulous,clusters of tiny flowers. This is an especially nice shurb to plant near a window where you can look out it closely and enjoy its special attributes. True, it is uninteresting in the summer, but it more than makes up for this with its branches and flowers. Low maintenance.
Type: Deciduous shrub.
Outstanding Feature: Coiled and twisted branches; catkins.
Form: Rounded.
Growth Rate: Moderate.
Bloom: Small flowers are produced in 2-3" long catkins in spring by male plants. Emale flowers inconspicuous.
Size: 8-10' H x 8-10' W
Light: Full sun to part shade.
Soil: Average, medium, well drained.
Hardiness: Zones 4-8.
Care: Since these shrubs are usually grafted, straight suckers should be removed promptly.
Pests and Diseases: No serious pests or diseases but plants can be susceptible to crown galls. Various foliage-eating caterpillars, Japanese beetles, leafhoppers, and scale can cause damage.
Propagation: Plants are grafted so can not be reliably and easily propagated in the home garden.
Comments: Male and female flowers are borne on different plants and only the male flowers are showy so be sure that your plant is a male.