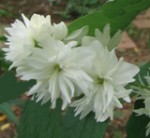 The clear white flowers of mock orange 'Miniature Snowflake' standout against the crisp dark green foliage and the citrus fragrance perfumes the air all around it as spring turns into summer. No wonder that this old fashioned plant is coming back into favor. Of course "Miniature Snowflake" is not the variety grandma used to cultivate; they were large single flowered ones. This cultivar has the fragrance and color of grandma's but not the size so is suitable for a small garden; perhaps a small intimate garden with a bench so that you could sit and enjoy the fragrance close up. This lovely shrub is not demanding and grows in almost any soil, has few pests or diseases that hurt it, and needs little pruning. It is a dense compact bush and is good in shrub borders, in foundation plantings, or as a low hedge.
Type: Deciduous flowering shrub.
Outstanding Feature: Fragrant, white flowers; dwarf stature.
Form: Stiffly upright.
Growth Rate: Moderate.
Bloom: Clusters of fragrant double white 1 ½" wide flowers in late spring to early summer.
Size: 2.5-4' H x 2 ½ -4' W.
Light: Full sun to part shade.
Soil: Tolerant of a wide variety of soils but must be well drained.
Fertilizer: Fertilize in spring with general fertilizer if shrub shows signs of nutrient deficiency.
Hardiness: Zones 4-8.
Care: Blooms on old wood so can be pruned after flowering by cutting back 1/3 of the oldest stems. Can be rejuvenated by cutting back to the ground.
Pests and Diseases: More resistant than other mock oranges; no serious problems but is susceptible to canker, leaf spots, powdery mildew, rusts, aphids, nematodes and leaf miner.
Propagation: Softwood cuttings in spring.