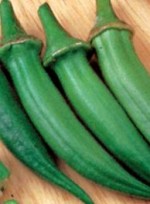 Okra likes warm days and nights so it is traditionally associated with the South. It actually thrives  in the heat and humidity there, pumping out pods even in the hottest weather.   If you want to grow okra and live in cooler areas where the growing season is shorter 'Cajun Delight' is the okra for you. In 50-55 days it produces low fiber pods that are tasty fried, baked, boiled, pickled or in gumbo; no wonder it is an All American Selection Winner.   An interesting note; the pods develop from flowers that resemble those of hibiscus and hollyhock, which is not surprising since the plants are in the same plant family, Malvaceae.
Days to Harvest: 50-55
Planting Date: Direct sow late spring to early summer when the soil has become warm, at least 65. Alternatively, start seeds 8 weeks before the anticipated transplantation date.
Spacing: Sow seeds 4-6" apart and thin seedlings to 10-18" apart.
Germination: 10-20 days
Size: 4" H x 4" W
Light: Full sun.
Water: Allow the soil to dry out between waterings.
Soil: Fertile, well-drained; tolerates clay soil.
Fertilizer: Apply compost or a complete fertilizer like 5-10-10 at planting time, when the first pods forms, and mid-summer.
Care: Harvest when pods are 4-6"
Pests and Diseases: Relatively disease free but borers can be a problem.
Suitable for containers? Yes