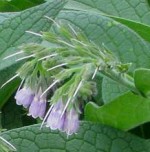 Russian comfrey is a natural hybrid from a cross between S. asperum and the herb, S. officinale. It is a member of the borage family, Boraginaceae, that also includes Virginia bluebells, forget-me-nots, and Siberian bugloss. The plants are coarse, vigorous, and have well branched stems carrying hairy, ovate to lanceolate leaves. The basal leaves are decurrent and eight to ten inches long while the upper leaves are two to three inches long. Pinkish buds carried in forked cymes open to one inch long tubular flowers in various shades of blue maturing to purple from late spring to early summer. The leaves are frequently used as compost and can be harvested several times a year. Plants are rhizomatous and may become invasive. The generic name, Symphytum, comes from the Greek words sympho meaning make to grow together (referring to the reputed healing properties of the plant ), and phyton meaning plant. The specific epithet, uplandicum refers to Uppland, Sweden.
Type: Herbaceous perennial
Bloom: Clusters of pinkish buds opening to blue flowers maturing to purple in late spring to early summer
Size: 36-48" H x 36" W
Light: Full sun to dappled shade; afternoon shade in South
Soil: Average, moderately moist, well-drained
Care: Low maintenance
Hardiness: Zones 4-8
Pests and Diseases: None of significance although susceptible to rust, powdery mildew, slugs, and snails.
Propagation: Division in spring
Companion Plants: Bistorta (Persicaria bistorta), Cypress spurge (Euphorbia cyparissias), foxglove (Digitalis spp.)
Outstanding Slections:
'Variegatum' (broad creamy white margins and lilac blue flowers)
'Axminster Gold' (gold variegation and mauve-pink flowers)