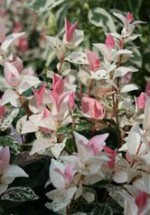 This was one of the plants that I saw in a nursery and could not resist. It called out to me and I knew immediately that I had to have it even though I did not have any idea where to plant it. The pink and white leaves shone out from the partial shade where the plants were growing in the nursery so I planted it in one of the shadiest areas of my garden which is not very shady at all and gets sun for at least 4 hours every day. But the soil is very good, the plants are regularly watered, and the one plant that I bought has thrived in its role as a ground cover and, in fact, it has forced some other plants into obscurity. No matter, it has beautiful foliage all year long, is easy to grow, and adds brightness as well as color to a shady spot. It can also be grown as a vine and makes a good container plant.
Type: Evergreen perennial vine.
Bloom: Inconspicuous white fragrant flowers in spring and summer.
Size: 6" H x 36' W (as ground cover.)
Light: Part sun to part shade.
Soil: Fertile, moist, well drained.
Fertilizer: Fertilize monthly with liquid fertilizer during the growing season.
Hardiness: Zones 7b to 9.
Care: Since the new growth is pink that slowly turns white, trim after blooming or during the spring and/or summer to encourage new growth.
Pests and Diseases: Susceptible to root rot and leaf spot.
Propagation: Division.
Companion plants: Pink tulips, pink dogwood trees, redbud.