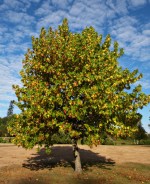 If you are lucky enough to have a sweet-gum tree in your vicinity you can recognize it by its round spiky burr like fruit that resembles an alien spaceship. You will also be blessed by its magnificent autumn foliage that turns a range of colors from yellow and orange, to scarlet. The tree is broadly pyramidal with beautiful symmetry and is an excellent specimen tree.
Type: Deciduous tree.
Bloom: Insignificant but fruits are 1″ and burr like. Useful in dried flower arrangements and Xmas decorations.
Size: 70' H x 35' W; moderate growth rate.
Light: Full to part shade, but autumn coloration best in full sun).
Soil: Moist, well drained, acid to neutral.
Hardiness: Zones 6-9.
Pests and Diseases: Leaf spots can be caused by fungi or bacteria and controlled by removing fallen leaves in the fall.
Propagation: Semi-hardwood cuttings in fall.
Comments: All sweet gums have beautiful autumn coloration but this one of the most reliable.