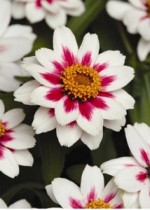 If you have been browsing zinnias lately you may have noticed the bicolor ones. 'Starlight Rose' has 2½" flowers with white petals surrounding a rose center that grows more intense. The plant stands about a foot tall so is an ideal annual for the front of the garden as well as containers. These zinnias are easy to grow and provide bloom for a good 12 weeks, resisting drought and thriving in the heat and humidity. Many zinnias have health issues but this one is resistant to mildew and leaf spot. As an All America Selection winner in 2010, it is a good plant for that problem spot that bakes in the sun.
Type: Annual.
Bloom: White and rose, ½" across for 12 weeks during warm-hot weather.
Foliage: Disease resistant green leaves.
Size: 12-14" H x 12-14" W.
Light: Full sun.
Soil: Fertile, well drained.
Fertilizer: Feed with complete liquid fertilizer at least every 2 weeks.
Care: Plant seed directly in beds or containers when soil and daytime temperatures are warm. To get a head start, plant seedlings inside 4-5 weeks before warm weather arrives. Dead head to promote blooming and enhance attractiveness.
Pests and Diseases: Disease resistance to mildew and leaf spot.
Propagation: Seed.