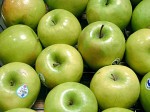 Apples are especially good in autumn when they are fresh and relatively inexpensive and my thoughts turn to my favorite apple cake. It is easy to make, tasty, and can be dressed up for company by serving it with vanilla ice cream or whipped cream. It is good any time of year and I also make it on St. Patrick's Day as the conclusion to my corned beef and cabbage dinner.
One cake 8″ square.
Ingredients:
4 tablespoons butter, room temperature
1 cup sugar
1 beaten egg
2 cups Granny Smith apples, cored, peeled and diced (about 4 apples)
¼ cup chopped walnuts
1 teaspoon vanilla
½ teaspoon baking powder
½ teaspoon salt
½ t cinnamon
½ teaspoon nutmeg
1 cup flour
Directions:
1. In a large mixing bowl cream butter and sugar until fluffy and light.
2. Add egg, apples, walnuts and vanilla.
3. In a separate bowl mix the remaining ingredients.
4. Stir dry ingredients into butter sugar combination and mix well.
5. Put into reased 8" square baking pan.
6. Bake at 350 about 45 minutes until skewer comes out clean.
7. Let rest 5 minutes and remove and place on serving plate.