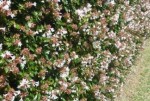 When the weather becomes warm spending time outdoors becomes a pleasure. What better way to enjoy the outdoors than having a garden room bounded by hedges. The hedges can define the space, give you privacy and block a view. A hedge will add greenery throughout the season and can provide color if you choose one that flowers. 
A flowering hedge is a beautiful sight when in full bloom. Some flowers are fragrant and will give another dimension to your garden area. These five shrubs offer a variation in size, flowers, and hardniess.

Glossy Abelia (Abelia grandiflora)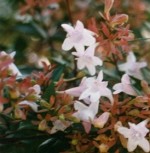 Small pink flowers are produced in clusters of 1-4 from early summer to frost on a semi-evergreen shrub. The dark green foliage is glossy and takes on a bronze to purple tint in fall. Shrubs are drought tolerant once established and can be severely pruned back when necessary.
Height: 3-6'
Bloom Time: Summer to frost
Light: Sun to part shade
Soil: Average, moist, well-drained
Hardiness: Zones 6-9

Sweet Mock-Orange (Philadelphus coronarius)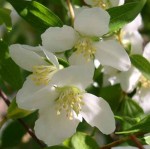 The sweet-scented flowers, reminiscent of orange blooms, are creamy white and open in clusters of 5-7 in late spring. The single flower forms are more fragrant than those of the double hybrids. Several cultivars are available including a dwarf form and ones with yellow foliage and variegated foliage.
Height: 12'
Bloom Time: Late spring
Light: Full sun; tolerates some shade
Soil: Organic, moist, well-drained
Hardiness: Zones 4-8

Common Lilac (Syringa vulgaris)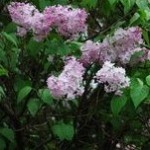 For large fragrant clusters of flowers you can't go wrong with common lilac. The heady fragrance will scent the whole garden and bring nostalgic images to mind. The bushes are dense vigorous and upright and sucker easily so have to be thinned. Many varieties are available with single and double flowers, in white, pink, magenta and many shades of blue to purple.  Lilac are susceptible to mildew and may need spraying to do their best.
Height: 20'
Bloom Time: Mid-spring
Light: Full sun
Soil: Fertile, well-drained, neutral to slightly alkaline
Hardiness: Zones 3-9

Black Haw (Viburnum prunifolium)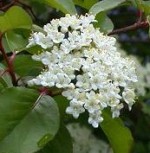 Small white flowers are borne in flat cymes in spring and are followed by blue-black berries in fall. The edible fruits of this native shrub have been used since colonial times to make preserves and some strains have been selected for the large size of their berries. Leaves provide beautiful red coloration in fall.
Height: 12-15'
Bloom Time: Spring
Light: Full sun to partial shade
Soil: Average, well-drained
Hardiness: Zones 3-9

Oleander (Nerium oleander)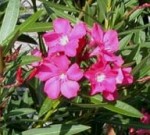 A ride from the airport to the city of Rome, Italy will convince you that oleander is a great shrub for a warm climate. It grows in the medium strip of the highway with all the dust, air pollution, and heat that the road can generate. It is evergreen and blooms profusely in white, pink or yellow. It is tough shrub with great drought tolerance.
Height: 12-20′
Bloom Time: Summer
Light: Full sun to part shade
Soil: Poor to average, moist to dry, well-drained
Hardiness: Zones 8-10
When selecting shrubs for a hedge special attention should be paid to matching the site to the plants. You can't do anything about hardiness but accept it and choose plants suitable for your zone. Some plants tolerate shade better than others and some plants tolerate more drought than others. In each case the plant will do best if given the optimum conditions so matching the plant to the environment as well as possible is important.