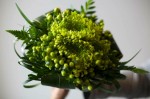 When the winners are given their medals at the Olympic Games, do you look at the bouquets? I do. Every medallist gets one and this year at the winter games about 1800 bouquets will be given out. Since there are more participants in summer games, the number goes up, probably to about 6,000 in 2012. That adds up to a lot of flowers and foliage. Have you ever wondered what goes into choosing, growing, and transporting all those flowers and foliage and then designing, making and delivering the bouquets? Read on…
The custom of giving a bouquet to medallists goes back to ancient Greek times when wreaths made of olive leaves were presented to winners.
Ancient Greek and Roman women carried bouquets of garlic, herbs, and spices to ward off evil spirits and by Victorian times, flowers had replaced the herbs and were used to convey special messages from sender to recipient. Today, the Olympic Games carries on the tradition of bouquets by carefully selecting flowers and foliage to enhance the triumphal moment of the winners.
The 1800 bouquets for the 2010 winter Olympics in Vancouver are the result of a long and arduous selection process by the Vancouver Olympic Committee (VANOC). They contain yellow-green spider mums, purple-green hypericum berries, leather leaf fern, loops of monkey grass, aspidistra leaves, and a royal blue ribbon tied around the handle that is wrapped with recycled paper. All the bouquets were made by 22 "marginalized women" who have been trained in floristry for the occasion. Everything about the bouquets from design, to flower selection, and delivery was carefully planned.
The Committee sought bouquets that reflected their concern for:
1. Safety. Pollen and fragrance may cause allergic reactions and must be considered in the selection of plant material. Since some medallists will throw their bouquets to admirers, the bouquets can not include material that might poke out an eye or otherwise hurt someone.
2. Longevity and Durability. Plant material must be able to hold up well to heavy handling for at least a day without a source of water since bouquets will be subjected to inspections and made a day ahead of presentation.
3. Environmental Impact: Organically grown sustainable plant material, minimal and biodegradable-recyclable packing material, fuel efficient, low-emission delivery vehicles, and short transportation distances are preferred.
4. Indigenous Plant Material. Use of plants that represent the region and reflect the color palette of the Games. Unfortunately very little useful bouquet material grows in B.C. or Canada in February so a compromise was reached; the green spider mum are greenhouse grown in B.C. but the berries and foliage are supplied by Ecuador growers because no local grower could provide the foliage in sufficient quantity in February.
5. Employment: Creation of employment opportunities for people who might not otherwise benefit from the Games. The winning bid was won by a partnership between two florists over the age of 65 with over 100 years of combined experience. They trained and used 22 marginalized women who worked in groups with a group leader to create the bouquets. The marginalized women may be recovering from addiction, leaving prison or the sex trade, been victims of violence, or be trying to learn floristry as a career but all wanted to be involved.
The result of their efforts has been splendid! This was certainly a win-win situation with all benefiting, including the floral workers who made the bouquets, the environment, and the Olympic winners who take home a cherished item to remind them of their special day.
If you would like to learn more about Olympic bouquets see my post on Olympic Bouquets of the Past.