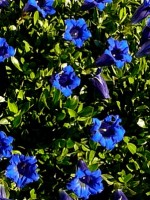 This evergreen herbaceous perennial is native to the mountains of southern and central Europe where it can grow in full sun but have cool roots. This is a very demanding plant that wants conditions to be a certain way and if you can provide them it will be a treasure. The Pacific Northwest is probably the best local for success. Plants form rosettes of dark green narrowly elliptical leaves that form slowly spreading mats. The bright blue trumpet shaped flowers are a little over two inches long and have green spots in their throats. They are carried in spring on short erect stems giving rise to their specific name, acaulis. This is a great choice for an alpine garden if you can provide the exacting demands of the plant. If you are lucky enough to be successful with trumpet gentian you will be rewarded with a stunning flower that adds a welcome touch of bright blue to the garden as well as to arrangements. They are only appropriate for small arrangements because of their short stems but will put an eye-catching snap into any arrangement where they are included. A small bunch in a white vase is also an eye-catcher.
Cutting: Needs no special treatment
Conditioning: Needs no special treatment
Preserving: Use silica gel to preserve flowers
Cultivation:
Size: 4-6" H X 8-12" W
Light: Full sun to partial shade
Soil: Average, medium moist, well-drained
Hardiness: Zones 3-7
Propagation: Seed, division of offsets in spring
Care: Considered high maintenance because of their exacting growing requirements.