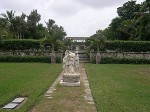 This garden with its adjoining cloister is a "must " see if you go to Paradise Island or Nassau. It a formal garden with a long central axis, breathe taking vistas, and grassy terraces. Abundant plantings of tropical trees and shrubs create a beautiful setting for statuary both old and new. The cloister, across the street from the garden, looks down on a gazebo and the water with a view of Nassau harbor and New Providence Island. Take a stroll in this splendid setting and enjoy one of the true treasures of Paradise Island.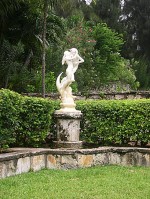 In 1959 Huntington Hartford II, the A&P supermarket heir bought what was then known as Hog Island and renamed it Paradise Island. He hoped to develop the island as a gambling center equal to Monte Carlo and built the Ocean Club Hotel and the adjoining Versailles Garden and Cloister. Authorities claim that the garden was inspired by Louis XIV's gardens at Versailles outside of Paris, France, and perhaps they were, but there is little resemblance. Unlike the French Versailles gardens, this garden is intimate, peaceful, and much less pretentious.
As you enter the garden from the street the long central axis gives you an overview of what is to come.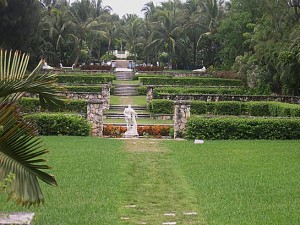 A pool, the only water feature in the garden, is the home to some lovely blooms: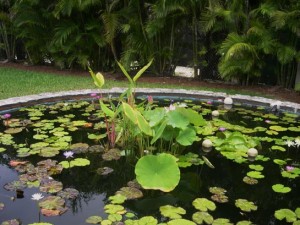 lotus…
and water lilies of various colors.
Statues are placed in various places in the garden, reminiscent of the old formal gardens of Europe;
A  bronze called "Mother and Child"…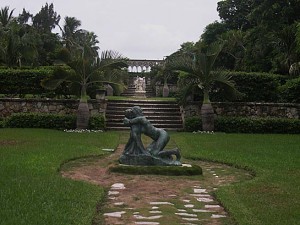 and a copy of an ancient statue of Hercules leaning on his club with his lion skin draped on his shoulder overlooks a lily pond.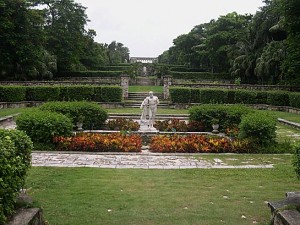 Two of Hartford's personal heroes are placed in niches on either side; David Livingston on one side…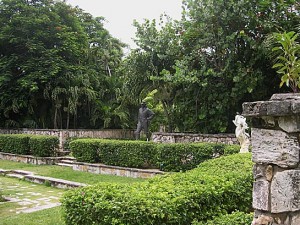 and Franklin Delanor Roosevelt on the other.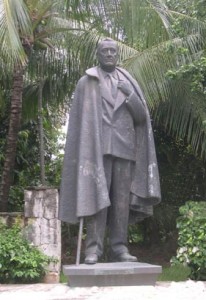 Lush planting of interesting shrubs and trees abound.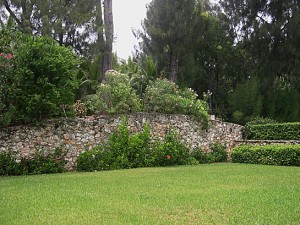 Across the street from the Versailles Garden is a cloister from an Augustinian monestery that was originally built in the 12th –13th centuries in Montrejau, France. Brought to the United States by American newspaper baron William Randolph Hearst in the 1920s, it was sold to Hartford who had it rebuilt in 1968 on Paradise Island by Castremanne. The process was slow and laborious because no instructions accompanied the pieces.
Golden yellow hibiscus is planted on the front side of the cloister.
The cloister is roofless but is adorned with a classical style statue and complementary plantings.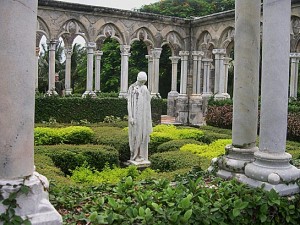 A long view to the Nassau harbor and New Providence Island greets the visitors to the cloister.
A gazebo, popular for weddings, sits on the slope to the harbor.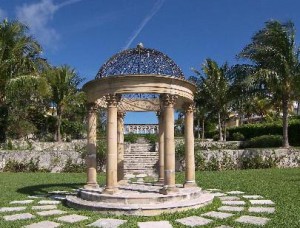 The Versailles Gardens and Cloisters, owned by the Ocean Club Hotel, are located on the eastern side of Paradise Island about 15 minutes by foot from the Atlantis Hotel. Entrance is free and open to the public although a bad tempered man will chase you away if you get too close to the Ocean Club Hotel. This is a great garden and well worth a visit!