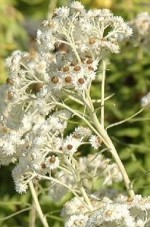 Pearly everlasting is grown for both its foliage and flowers. The gray-green woolly leaves are attractive from spring until fall and are joined in late summer by clusters of white papery flowers with yellow centers. Unlike most other gray and/or woolly plants such as Artemisia, pearly everlasting actually likes moist spots and can be grown in damp areas where those other plants won't grow. Evenly moist soil is the most important requirement of this otherwise easily grown plant and if the soil dries out the foliage will deteriorate. The flowers are especially nice when dried and used in bouquets with other dried material. As an added bonus, american painted ladies butterflies like pearly everlasting too.
Type: Herbaceous perennial
Bloom: Clusters of small white papery flowers with yellow centers are borne above the foliage in late summer into fall.
Foliage: Gray-green alternate, entire, sessile leaves are woolly.
Size: 24-36" H x 24-36" W
Light: Full sun to partial shade but prefers full sun
Soil: Fertile to average, moist, but not wet.
Fertilizer: Apply complete fertilizer in spring.
Hardiness: Zones 3-8
Care: Make sure that the soil does not dry out; divide every 3-4 years to maintain vigor.
Pests and Diseases: Susceptible to stem rot, rust, septoria leaf spot.
Propagation: Seed possible but division is easiest and quickest method.
Companion Plants: Use in the border to cool down the bright orange and red flowers of other late blooming plants or pair it with asters such as lavender blue 'Professor Kippenberg or hot pink 'Alma Potschke'.