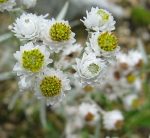 Native to India, this herbaceous perennial is a member of the aster family, Asteraceae, that also includes daisy, yarrow, and lettuce.  It grows 2-3″ tall from a rhizomateous rootstock and has 2-4″ long lanceolate leaves that are gray-green with cinnamon hairs on the underside.  From later summer into fall the plants produce rounded  clusters of 1/4-1/2″ wide button-like flowerheads that  consist of a yellow center surrounded by papery white bracts. Excellent flowers for dried or fresh arrangement and attractive in borders to cool down hot colors.  The genus name, Anaphalis, is the classical Greek name for another everlasting plant. The specific epithet, cinnamomea, refers to the color of the hairs on the leaf undersides.  The specific epithet, yedoensis, honors the town Yedo, Japan, now Tokyo.
Type: Herbaceous perennial
Bloom: Clusters of small white papery flowers with yellow centers are borne above the foliage in late summer into fall.
Foliage: Gray-green alternate, entire, sessile leaves are woolly.
Size: 24-36" H x 24″ W
Light: Full sun; tolerates some shade
Soil: Fertile to average,  consistently moist, well-drained
Fertilizer: Apply complete fertilizer in spring.
Hardiness: Zones 3-8
Care: Make sure that the soil does not dry out; divide every 3-4 years to maintain vigor.
Pests and Diseases: Susceptible to stem rot, rust, septoria leaf spot.
Propagation: Seed possible but division is easiest and quickest method.
Companion Plants: Use in the border to cool down the bright orange and red flowers of other late blooming plants or pair it with asters such as lavender blue 'Professor Kippenberg or hot pink 'Alma Potschke'.
Photo Credit: Wikipedia