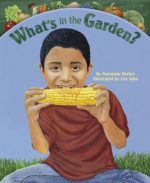 From the very first page, What's in the Garden is a hit.  Author Marianne Berkes presents factual information about 12 fruits and vegetables in a way that captivates and engages the mind and encourages young readers to  prepare and eat healthy meals.  Written for children 5-8 years old, the book stimulates the imagination and provides learning possibilities on many levels.
Each fruit or vegetable is introduced by a rhyming riddle and a full page illustration of the plant growing or blooming along with animals associated with the plant.  We see rabbits with young lettuce plants, caterpillars on carrot greens, and ladybugs and aphids on tomato plant stems.  The riddle encourages readers to guess the fruit or vegetable and with a simple turn of the page the fruit or vegetable is revealed along with a recipe for its use.  A variety of recipes are included such as carrot muffins, French onion soup, and roasted pumpkins seeds and involve simple cooking skills from folding in and creaming ingredients to simmering and  baking.  Young cooks learn about measuring and fractions and are introduced to seasoning such as garlic, basil and Worchester sauce as they go through the recipes.  End pages enhance the text with interesting facts about the 12 fruits and vegetables along with tips on how to grow them.  The six parts of a plant are described and the difference between a fruit and vegetable is explained.
The text is terrific, the illustrations are fabulous, and the content is perfect.  What could be a better way to introduce kids to healthy eating habits while encouraging them to grow and cook the foods they eat?   I love this book!
To buy What's in the Garden from Amazon.com click here.