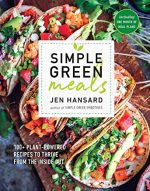 In her book, Simple Green Meals, author Jen Hansard,  has a strightforward message:  eat more plants.  Hansard is an enthusiastic vegetarian who shares her experience going from an exhausted, stressed out house wife and mom to a dynamite author and cofounder of a popular food website.  She credits her transformation to a change in diet that focused on plant-powered foods that replenish energy levels and nourish the body and provides recipes as well as strategies to make a plant-based lifestyle work.
Key to Hansard's concept of eating  involves consuming foods that come directly from nature, avoiding ones that don't like processed corn, (corn syrup), food coloring, monosodium glutamate, artificial sweeteners, and artificial flavors.  Further, she recommends limiting foods that drag you down like dairy, refined sugar, processed foods, gluten, caffeine, alcohol, soy, meat, and eggs.  She fully recognizes people cannot just give up foods they have loved all their lives but recommends inviting plants to every meal and slowly learning to appreciate what they have to offer over time.   To aid in this endeavor, Hansard offers buying tips, ways to save money, suggestions for choosing restaurants, and recommendations for the proper kitchen tools. Of special interest is her list of EWG's Dirty Dozen list of produced with the highest contamination from pesticides, and the ENG's Clean 15 list of produced that is least likely to contaminate by pesticides.
The heart of the book lies in the 100+ vegetarian  gluten-free recipes, presented by use:  breakfast, snacks, salads, soups and sides, main dishes, desserts and beverages.  Each recipe has an introduction with a bit of the author's personal history of the dish.  Ingredients are listed in bold type and are followed by step by step instructions and accompanied by a full color photograph of the finished dish.  Addition information is given indicating if the recipe is vegan, nut free, and dairy free with suggestions for substitutions in to allow for customization.  The recipes for cashew coleslaw, walnut lentil taco meat, and black bean little dippers were particularly appealing but desserts like cacao mug cake and the thin mint cookies  sound mighty tempting.  A final section of the book gives information about the  protein sources of come common foods, replacements for eggs depending on the role in the recipe, suggestions for storing foods, four weeks' worth of menu ideas.
The text is written in an easy to read, friendly style that encourages readers to engage with author and give her philosophy a try.  The recipes  have few odd-bal ingredients but  call for a variety of nuts,  honey or maple syrup as sweeteners, and avocado oil and coconut milk instead of more traditional products.  Most recipes can be put together in a reasonable amount of time and no not require hard to find ingredients.
To buy Simple Green Meals from Amazon.com click here.