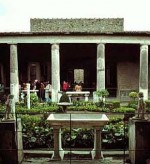 The houses of the wealthy ancient Pompeians usually were large and had many rooms organized around an open space. The open space was used as a garden and was surrounded by a colonnaded walk called a peristyle. Before the aqueduct was extended to Pompeii, the garden was devoted to trees, especially fruit trees, rather than shrubs and herbaceous plants because trees needed abundant water only one year to become established. After the aqueduct came to Pompeii, shrubs and herbaceous plants were included in the garden.
The garden varied in size and was either square or rectangular rather than curvilinear. It was bordered by a colonnaded walk on 1,2,3 or 4 sides that provided much needed shade for visitors.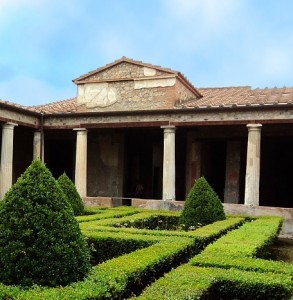 Although the columns of the peristyle were usually round but could be rectangular in cross section.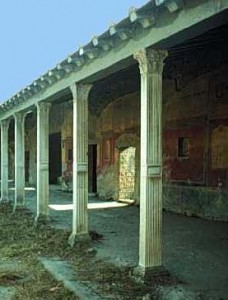 They were usually fluted and white but could also be smooth and partially or completely painted red.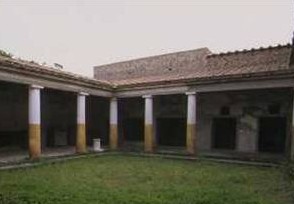 Sometimes a mid height wall was built between the columns.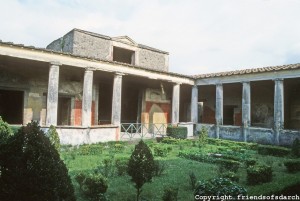 A red or wood fence might be used instead of a wall between the columns. No fences have survived but several styles are known from wall paintings and brackets have been found on the columns.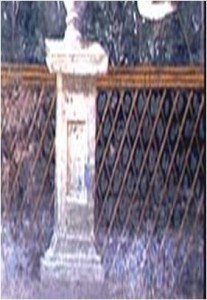 The fence shown in this wall painting is the most common one and is still used in Pompeii.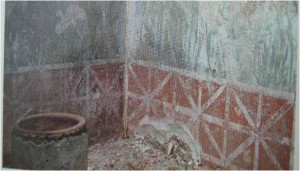 Paintings adorned the walls of the peristyle as well as those of the low wall between columns. These paintings served to make the area seem larger. There were two main themes that were popular: garden scenes and hunt scenes. The garden scenes showed birds and other animals, a rich variety of plant material, and architecture features such as fences.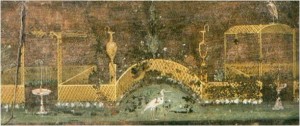 The hunt scenes tended to be violent and often showed animals being chased and killed. A homeowner that could not have a wild animal preserve could enjoy one by means of his wall paintings.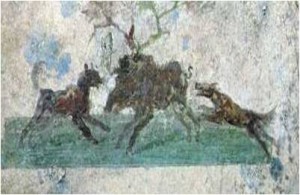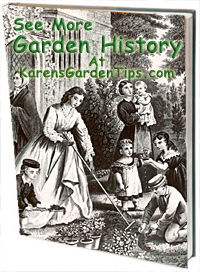 The garden itself was planted with a variety of trees, shrubs and herbaceous plants and ornamented with fountains and sculpture of various types. The garden was enjoyed by all members of the family and was used in many different ways. These features and topics are discussed in other articles in the series.