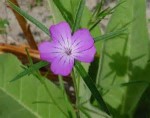 Corncockle is an upright annual native to Europe where it grows in disturbed sites such as fields and roadsides. It was considered a weed of wheat fields until the twentieth century when agricultural practices changed and is now cultivated as an ornamental. The gray-green leaves are narrowly lanceolate and are carried upright close to the stem. The five petalled flowers are trumpet shaped, magenta with black striping, and about one to two inches across. In summer they are borne singly on stiff stems that sway gently in the breeze and are subtended by narrow sepals that are longer than the petals. 
There is some disagreement on the translation of the Hebrew word , b'oshah, which litterally means offensive or having a bad smell.  Translations includes noxious weed, stinkweed, foul weeds, poisonous weeds, tares, and brambles.  Scholars have variously identified the plant  as blackberry, poppy, dwarf elder, and night shade, amoung others,  but corncockle is favored  partially because it is commonly found growing in grain fields.
Job 31  After protesting his innocence, Job asks God to judge him and determine the consequences (KJV)
40. "Let thistles grow instead of wheat, and cockle instead of barley.  The words of Job are ended."
Corncockle likes full sun and average, dry, well-drained soil .  It is generally healthy and has no significant pests or diseases.  Propagation is by seed and it readily self-sows.  An excellent choice for a cottage garden and a good cut flower and outstanding selections include 'Milas" (dark plum-pink flowers),'Ocean Pearl' (white), and 'Pink Pearl' (pale pink flowers).  All parts of the plant are poisonous.
The genus name, Agrostemma, comes from the Greek words agros, meaning field, and stemma, meaning garland.