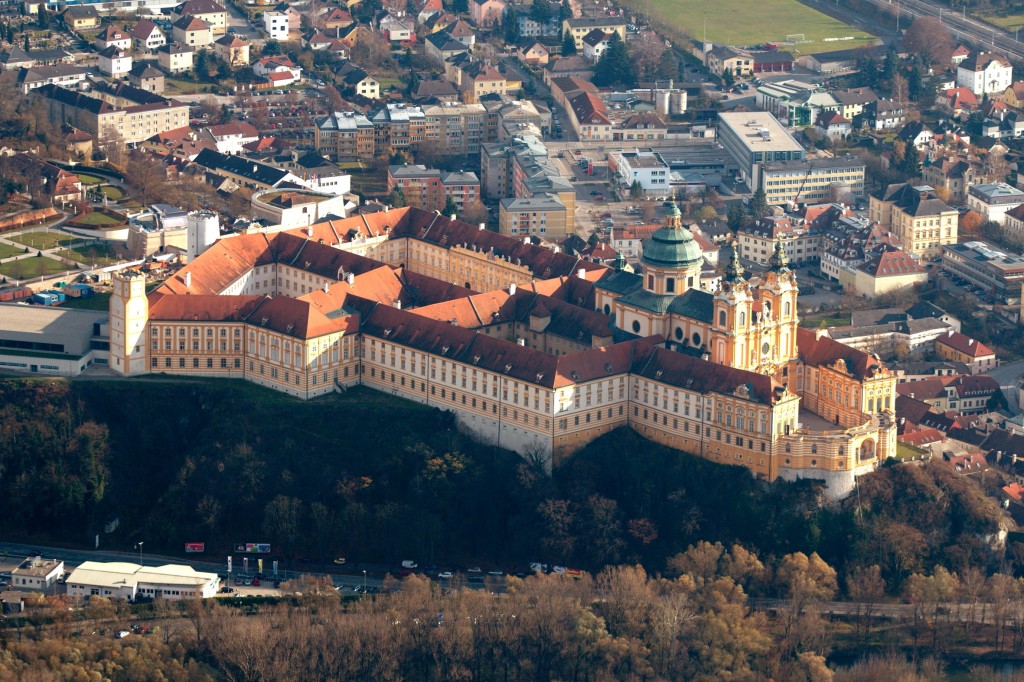 Most people come to see the church, the library, and the Benedictine abbey itself but few take the time to explore the grounds. As spectacular as the buildings are, the gardens deserve a visit. The grounds include a magnificent entrance, a rose garden, and a baroque park designed in 1750, updated in 1822 as an English landscape garden, and revitalized in 2000.The abbey with its gardens is located on a rocky outcrop high above the Danube and the city of Melk in Lower Austria. It can be reached by on foot or by a short bus ride from the town. A map gives the general layout of the abbey and its grounds.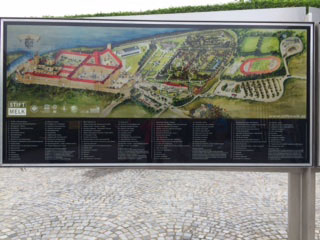 The bus drop off point is made very hospitable by a pleasant hedge.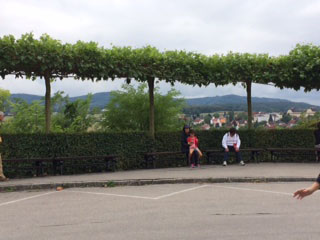 The first sight of the abbey and ground from the bus gives the visitor an idea of how high and rocky the site is.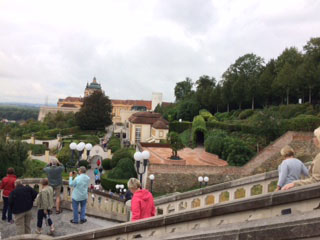 The park area is terraced.
The terraces are filled with carefully tended shrubs.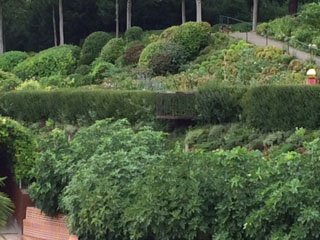 A grand staircase takes the visitor from the bus drop off point to the abbey grounds.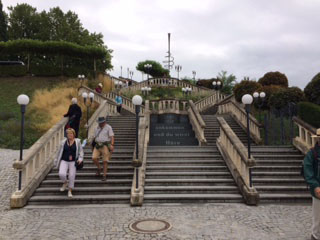 A cobblestone walkway takes visitors through a gate into the courtyard.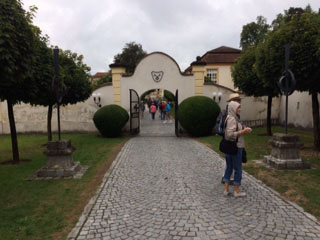 Lush green grass adorned with sculpture flank the walkway.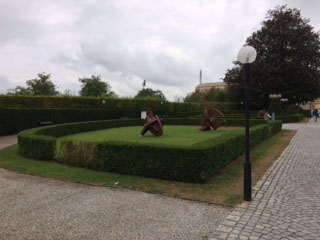 Entrance to park begins with a tree-lined walk to the pavilion.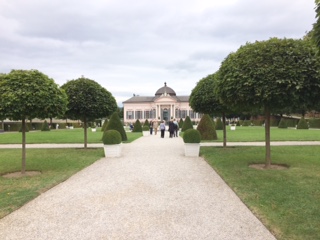 Whimsical sculpture adorns the grass parterres.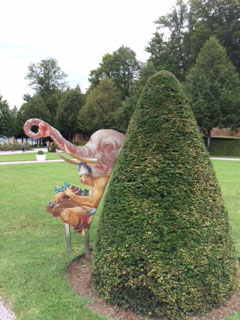 A rose garden flanks the pavilion with some familiar favorites; 'Wife of Bath',' Fair Bianca', 'Warwick Castle', and 'Othello'.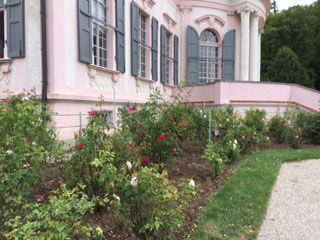 Behind the pavilion and an arch in a hedge beckons.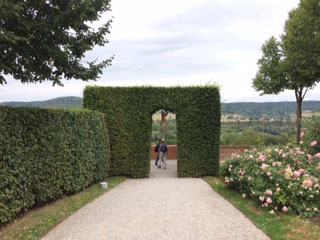 A long walk runs along the edge of the cliff.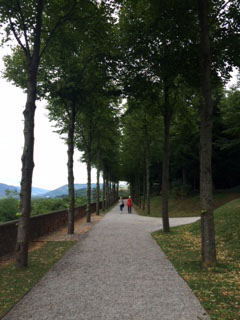 A fabulous view of the city of Melk lies below.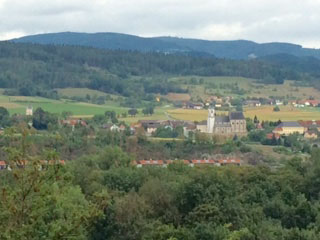 On the other side of the walk is a woods with paths running throughout.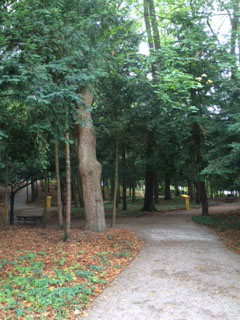 At various points there are places to that invite a quiet moment for contemplation.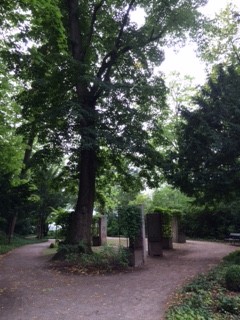 A pool occupies a clear area in the woods.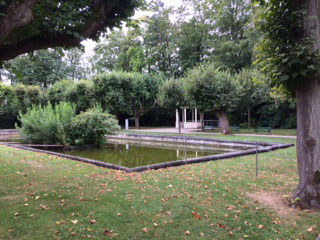 Other clearings in the woods include a gazebo and sculpture.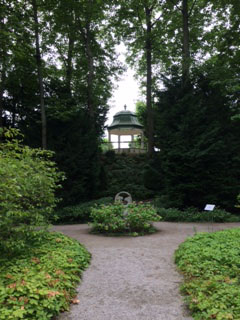 Some of the sculpture takes on a whimsical nature.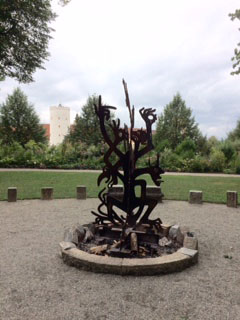 These faces stand guard over a terrace.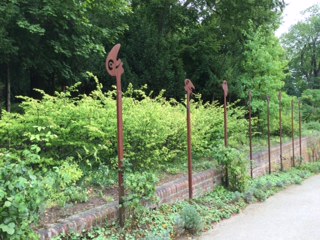 A bird on a dead tree trunk stands against a wall.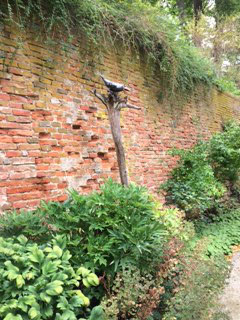 Many birds adorn a parterre nearby.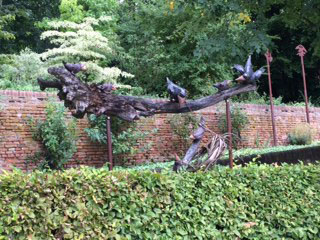 Sometimes the adornments are unusual like these wool tree coverings.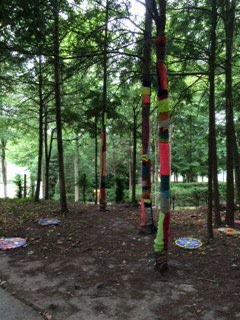 A flower bed adds color on the edge of the woods.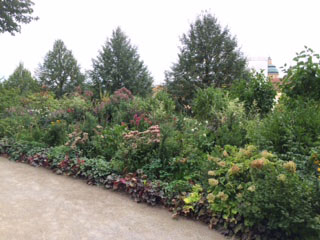 To buy Melk Abbey (Stift Melk) (English Edition) from Amazon.com click here.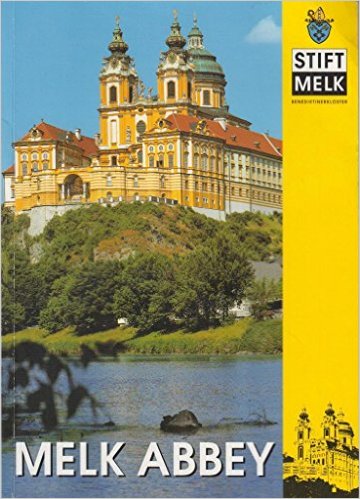 Aerial view by Matthias Kabel via Wikipedia