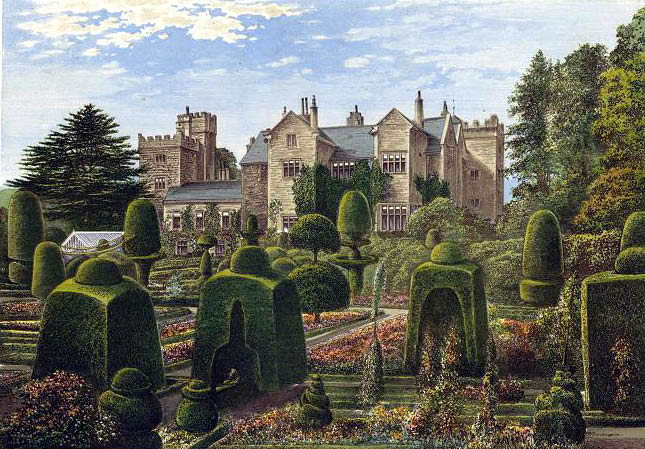 England has some of the finest examples of topiary in the world. Yet topiary is not an English invention; it goes back at least to ancient Roman times. Wall paintings in ancient Rome showed gardens with topiary and in the first century AD Pliny the Younger described the animals, obelisks and other topiary figures in his Tuscan villa. Topiary was popular in gardens of the Italian Renaissance, and by the end of the seventeenth century the French, Dutch, and English had adopted it into their gardens. In England many of the topiary gardens were replaced when the "landscape" movement became popular in the eighteenth century. A few survived and more have been added as an interest in Italianate garden emerged at the end of the eighteenth century.

Levens Hall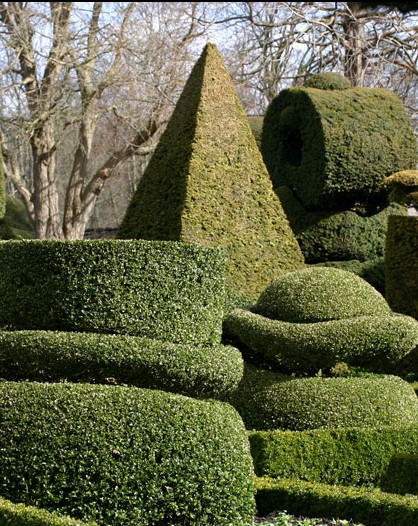 Perhaps the most famous of all topiary in England, Levens Hall is located in Cumbria and features a huge collection of giant topiaries in all sorts of fanciful shapes. Monsieur Beaumont, a pupil of La Notre, originally laid out Levens between 1690 and 1712. Levens Hall has been owned by the same family since the seventeenth century which probably accounts for it survival and breath taking appearance.

Packwood House
Located in Warwickshire, the garden at Packwood House also dates back to the seventeenth century. The Yew Garden is the most famous and consist of 100 trees clipped to represent The Sermon on the Mount. Twelve yews represent The Apostles, the four middle trees are The Evangelists, the hummock is The Mount, and the single yew at the top of the hummock is The Master. The smaller yews that occupy a former orchard are The Multitude. The Apostles were in place in the 1750s but the other yews were planted during the restoration in the 1850s.

Hidcote Manor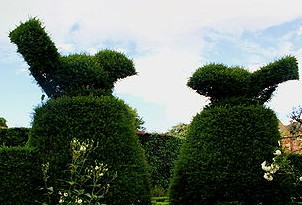 Hidcote manor, located in Gloucestershire, was crated by Major Lawrence Johnston a wealthy American who became a British citizen. Reflecting the Arts and Craft tradition it has a series of garden rooms defined by clipped hedges and accented by topiary. The topiary ranges from giant sugar loaf shaped yews to peacocks and standard bay trees.

Hever Castle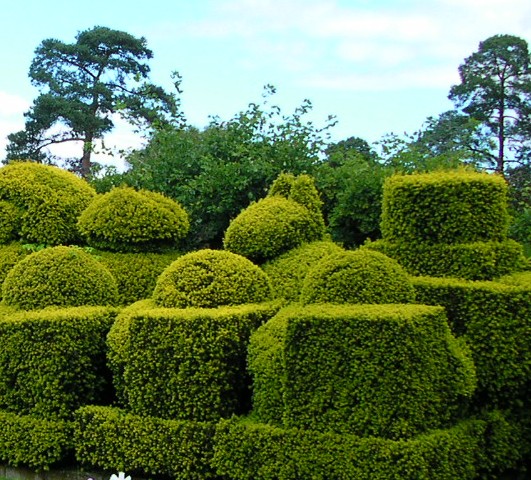 Hever Castle is located in Kent and was the childhood home of Anne Boleyn. In 1904 the American millionaire, W. W. Astor, installed the peacock topiary in the old English Garden and the golden yew chessman in a garden of their own. The chessmen were modeled after gaming figures dating from the time of Henry VIII that Astor saw in the British Museum.

Cross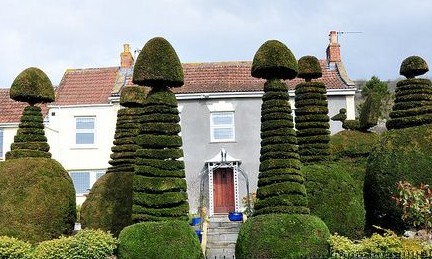 The topiary of Mr. Smith in Cross, Somerset, may not be the most extensive but it remarkable and memorable. Four of the six giant topiaries were planted soon after 1842 when Mr. Smith's great-grandfather moved into the cottage. Care and attention have nourished them to grow into the amazing specimens they are today.