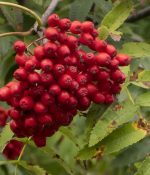 Also known as rowan, this deciduous shrub or small tree grows up to 40' tall and is native to light woodlands in almost all of Europe, parts of Asia, and northern Africa. It was introduced into North America as an ornamental for its foliage that turns yellow to reddish-purple in the fall and its attractive orange-red fruit that is food for many birds, but has naturalized and is now invasive from northern North America, south to West Virginia, Illinois, and California. Plants are resistant to air pollution, wind, winter dryness, and shade but not salt. USDA Hardiness zones 3-6
The following natives are recommended as alternatives:
Allegheny Serviceberry (Amelanchier laevis)
The fragrant spring blooming flowers of this deciduous shrub or small tree growing up to 30' tall make it a pleasant addition to a spring garden where it will also contribute red- orange foliage color in the fall. It is native to eastern US from Nova Scotia and Ontario, south to Georgia and Iowa. USDA Hardiness zones 4-8
Persimmon (Diospyros virginiana)
Persimmon is a shrubby deciduous tree that grows up to 60' tall and is native from Connecticut to Kansas, south to Florida and Texas. It has edible fruit and distinctive bark that provides winter interest. USDA Hardiness zones 4-9)
Cranberry Viburnum (Viburnum opulus var. americanum)
Also known as highbush cranberry, this dense deciduous shrub grows up to 12' tall and has lacecap white flowers in spring, pendant clusters of red berries in fall, and attractive purplish red autumn color. It is native to swampy woods, bogs, lake margins, pastures, slopes and moist low places from New Brunswick to British Columbia south to New York, the Great Lakes, South Dakota, and Oregon. USDA Hardiness zones 2-7
Smooth Sumac (Rhus glabra)
Smooth sumac is a deciduous shrubs producing dense clusters of red seed pods and red foliage in the fall. It grows to 15' and is native to prairies, fields, abandon farmland, and clearings of Ontario west to Manitoba, south to Georgia and Texas; USDA Hardiness zones 3-9.
American Mountain Ash (Sorbus Americana)
Grown for its attractive foliage and orange-red clusters of berries eaten by birds, American mountain ash is a deciduous small tree or shrub growing up to 30' tall. It is native to open woods, rocky slopes and outcroppings, and mixed coniferous woods from Newfoundland to Manitoba, south to Maryland, Illinois, and Minnesota, and in the mountains to Georgia. UDA Hardiness zone 2-7
Sitka Mountain Ash (Western Mountain Ash/ Sitka Mountain Ash)
Growing in rocky soil, open woods, and bog margins at mostly subalpine elevations, Sitka mountain ash is native from southwest Alaska to the mountains of Washington, Oregon, and northern California and east to parts of Idaho and northwestern Montana. It is a deciduous shrub or small tree growing to 20' tall, and has clusters of white flowers in late spring and bitter orange-red berries in fall that are attractive to birds and small mammals. USDA Hardiness zones 3-6
Greene's Mountain Ash (Sobus scopulina)
Growing up to 13' tall this deciduous shrub is native to canyons and wooded slopes in western North America including the northern Rocky Mountains, Pacific Northwest and Cascade Mountains. USDA Hardiness zones 4-8