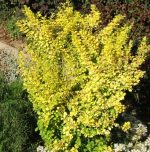 Japanese barberry is a thorny, deciduous shrub growing 3-6' tall with obvate green leaves that are up to 1 ¼" long and turn yellow to red in the fall. Pendent clusters of pale yellow flowers appear in spring and give way to small red berries that persist into winter and are attractive to birds. Plants are very adaptable and tolerate shade, heat, drought, and urban conditions. They respond well to pruning and are especially useful for barrier hedges. Several cultivars are available that vary most significantly in height and foliage color. Japanese barberry is native to Japan but was introduced into the US in 1875 as an ornamental and as a replacement for common barberry (B. vulgaris) that is a host for black stem rust of wheat. Plants form dense stands that compete with native vegetation in open woods woodland borders, pastures, fields, and disturbed areas such as waste lots, and have become invasive from Maine too Manitoba, south to Georgia and Kansas due to their high reproductive capacity and the fact that they are avoided by browsing wildlife. USDA Hardiness Zones 4-8.  Photo Credit: Wikipedia
The following natives are recommended as alternatives:
New Jersey Tea (Ceanothus americanus)
Terminal clusters of small white flowers attractive to insects adorn this mounding 1-3' tall shrub in late spring and summer and the quilted oval leaves turn yellow before falling in autumn. It is native to open woods, rocky slopes, barrens, prairies, and roadsides from Quebec and Minnesota, south to Florida and Texas. USDA Hardiness Zones 3-9
Mountain Mahagony (Cercocarpus spp)
There are five or six species of this nitrogen-fixing genus all of which are native to western North America from Alberta and British Columbia, south to Texas, California, and Mexico where they grow in chaparral and semi desert habitats. They are deciduous shrubs or small trees usually growing 9-18' tall. USDA Hardiness depends on the species.
Summersweet (Clethra alnifolia)
With strongly scented creamy white spikes of flowers in summer and decorative dried capsules in winter, this deciduous shrub grows up 4-8' tall and wide and has deep green quilted foliage. Native to swamps low woods, floodplains, and pond margins on the coastal plain and outer piedmont from Maine south to Florida, west to Texas. USDA Hardiness Zones 4-9
Alabama Croton (Croton alabamensis)
Alabama croton is a rare semi-evergreen to deciduous shrub that grows 6-10' tall and has apple-green leaves touched with silver that turn orange in fall, and greenish yellow male and female flowers on different plants. It is native to thin soils of Alabama, Tennessee, and Texas. USDA Hardiness Zones 6-8
Bush Honeysuckle (Dievilla lonicera)
Growing 2-4' tall and 3'5' wide, this arching deciduous shrub has a vaselike form with dark green foliage tinged with bronze in spring, turning yellow to apricot or scarlet in autumn. Clusters of yellow flowers open throughout the summer. Native to open deciduous or mixed coniferous woods, rocky slopes, and roadsides from Newfoundland to Saskatchewan, south to Virginia and Minnesota, and mountains to Tennessee. USDA Hardiness Zones 3-7
Southern Bush Honeysuckle (Diervilla sessilifolia)
A suckering deciduous shrub, southern bush honeysuckle grows 3-5' tall and has pale yellow honeysuckle type flowers in summer and lanceolate leaves that may develop reddish-purple color in the fall. It is native to bluffs, slopes, stream banks and woodland border in the southern Appalachian Mountains from western Georgia and Alabama to eastern Tennessee and Virginia. USDA Hardiness Zones 5-8
Witch Alder (Fothergilla gardenia)
Witch alder is a deciduous shrub growing 3-5' tall with fragrant white bottlebrush flower clusters in early spring and softly hairy gray green foliage that turns flaming orange to burgundy in autumn. It is native to pine flatwoods, savannas, and pond margins from North Carolina, south to Florida and Alabama. USDA Hardiness Zones 5-8
Witch Alder (Fothergilla major)
With fragrant white bottlebrush spikes of flowers, this deciduous shrub grows 6-10' high and has dark green leaves that turn shades of yellow, orange, and red-purple in fall. It is native to mountain woods, ravines, and along stream banks in the southern Appalachians of North Carolina, Georgia, and Alabama. USDA Hardiness Zones 4-8
Winterberry (Ilex verticillata)
Valued for its bright red berries that persist into winter, winterberry is a deciduous holly and grows up to 12' tall. It is native to low woods, swamps, and wetland margins from Nova Scotia to Minnesota, south to Florida and Arkansas. USDA Hardiness Zones 3-9
Virginia Sweetspire (Itea virginica)
An arching to rounded deciduous to semi-deciduous shrub, Virginia sweetspire grows up to 4-8' tall and wide and has fragrant white bottlebrush flowers and long green leaves up to 4" long that turn various shades of crimson, burgundy, and purple in full sun or orange, gold and scarlet in part to full shade. It is native to streams and pond margins, swamps, and low woods from New Jersey and Missouri, south to Florida and Louisiana. USDA Hardiness Zones 5-9
Bayberry (Morella pensylvanica aka Myrica pensylvanica)
Bayberry is a rounded deciduous shrub growing 6-10' tall and known for its aromatic leaves and fruits that are attractive to birds and have a waxy covering that is used to make candles, soaps, and sealing wax. It is native to dunes, swamps, marshes, bog margins, and roadsides from Newfoundland, south along the coast to North Carolina, west along the Saint Lawrence, and eastern Great Lakes to Ohio. USDA Hardiness Zones 4-7
Coralberry (Symphoricarpos orbiculatus)
This mounding deciduous suckering shrub grows 1-3' tall and forms thickets 3-6' wide. It has small greenish-white to pink flowers followed by coral-red fruit that persist into winter and are attractive to birds. Native to open woods, floodplains ,and rocky slopes from New Jersey to South Dakota, south to Georgia and Texas. USDA Hardiness zones 2-8