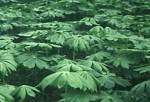 An area in full shade can be a problem because it gets little direct sunlight if any and most plants need light to survive. Some plants, however, need less light than others and there are plants that will do well in full shade and some that even need it for optimum growth. Among these are many native plants. For more on shade read my post How to Evaluate Shade.
Here are five easy to grow native perennials that thrive in full shade.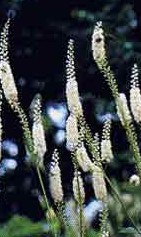 Black Snakeroot (Cimicifuga racemosa)
The tall slender wands of tiny white flowers are spectacular especially with the darkness of a woods around them. No wonder the plant is also known as Fairy Candles (black cohash and bugbane are other common names). When not in bloom the bushy plant is attractive with its large compound toothed leaves. Given humus-rich soil in full or dappled shade, black snakeroot will thrive.
Height: 3-8 feet
Bloom Time: Summer
Light: Deep to dappled shade
Hardiness: Zones 3-8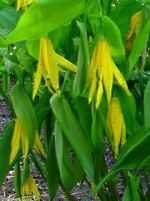 Large-Flowered Bellwort (Uvularia grandiflora)
Large lemon-yellow flowers are produced on nodding stems in spring creating a focal point in for a woodland garden. The light green foliage is very attractive and deer love it. Several kinds of bees including bumblebees visit the flowers regularly and ants distribute the seeds.
Height: 1-2 feet
Bloom Period: Two weeks in spring
Light: Deep shade to partial shade
Hardiness: Zones 4-9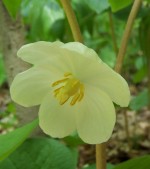 Mayapple (Podophyllum peltatum)
Each spring the roots send up two umbrella-shaped leaves and a single white flower in their axil. The flowers are followed by a yellowish green fruit that is the "apple". The flower is produced in May, the apple in early summer. Mayapple spreads rapidly in moist to average soil but will go dormant during times of drought.
Height: 1.5 feet
Bloom Time: Late spring
Light: Deep shade to filtered sun
Hardiness: Zones 4-9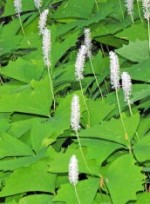 Vanilla Leaf (Achlys triphylla)
The three part light green leaves are fan-shaped and coarsely toothed making them a beautiful sight in a woodland garden. When dry, they give off a vanilla fragrance that earned the plant its common name. In spring, wiry stems bear spikes of small white flowers with long stamens that produce a fluffy look. Reddish purple berries follow. Plants like moist to average soil and will form large carpets in the understory of trees.
Height: 1 foot
Bloom Time: Spring
Light: Deep to partial shade
Hardiness: Zones 3-7


False Solomon's Seal (Smilacina racemosa)
A native of woodlands across the continent, false Solomon's seal sports clusters of creamy white flowers in spring that are followed by green berries that ripen to red in summer. Plants form large colonies and do well even under dry conditions.
Height: 1-3 feet
Bloom Time: Mid to late spring
Light: Deep shade to partial sun
Hardiness: Zones 3-8
When planting in heavy shade there may be other problems that have to be addressed. Soil in dense shade is often dry and poor in nutrients due to competition from tree roots. This means that you should probably plan on watering these plants especially during times of drought.