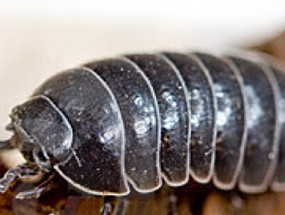 Woodlice can be a pest in the garden when the eat young seedlings. Altough sowbugs and pillbugs look very much alike, those that roll up into a ball when distubed are known as pillbugs or roly-polies. Both sowbugs and pillpugs are flat, gray in color and have segmented bodies with seven pairs of legs and two pairs of antenna (only one of which can be seen). In addition, sowbugs have two appendages at the end of their abdomen that pillbugs lack. Both animals like moist conditions and are often found in mulch or compost and under rocks, logs, boards, flower pots, and garbage cans.
1. Neither sowbugs nor pillbugs are bugs. They belong to the crustacean family and so are related to shrimp and lobsters.
2. In spite of their relationship to delicious tasting shell fish they taste like urine.
3. Woodlice breath by trachea and gills that must be kept moist or the animal will die from lack of oygen supply to the body.
4. Since woodlice can only live in moist conditions, if they enter your house their life expectancy drops considerably because they will quickly dry out.
5. When woodlice do enter a home they are usually live in damp basements, crawl spaces, garages, and bathrooms or areas with plants in flowerpots. Sometimes they are carried indoors on firewood.
6. Woodlice are usually active only at night and hide during the day in a dark moist spot.
7. The main food of woodlice is dead plant material so they will not infest your clothing or food supply.
8. Woodlice are harmless to humans and do not sting, bite or transmit disease.
9. An individual woodlouse can live up to two years.
10. Female woodlice carry their eggs and immature young in a water-filled sac beneath their bodies for several weeks.
Woodlice in the garden is simple; shovel them up and dispose of them in a place where they will not bother your plants. Control measures when woodlice get into a house should be aimed at reducing the availability of moist places for the woodlice to live.
1. Ventilate all areas where woodlice are found, using fans and dehumidifiers where possible.
2. Remove dead plant material including mulch away from the foundation of the house.
3. Keep soil level around foundation as low as possible.
4. Keep cutters and downspouts in good condition.
5. Weather-strip all doors going to the outdoors.
6. Caulk all cracks and crevices in and around the outside of the house.
7. Remove window boxes and flower pots from deck or porch.
8. Occasionally, a pesticide may be needed but such a situation would be unusual.