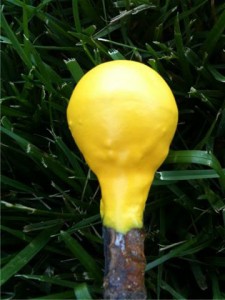 Many years ago in our Annapolis garden we used wooden stakes to keep plants orderly and standing upright. However, the stakes only lasted one season because the termites ate the bottoms off them so quickly. After going through several years of replacing the wood stakes we tried using short lengths of concrete reenforcing bars for our garden stakes. Over the years these simple stakes have evolved into the fine garden stakes we now use for plant supports throughout the garden. They are also used for identifying the layout of new beds, identifying where plants will be planted, marking the end of rows in the vegetable garden and anywhere else a temporary garden marker is needed.
Our original version of the stakes used 3′ lengths of re-bar with one end dipped in a yellow rubber-like coating commonly used to coat tool handles. The yellow end makes the stakes easy to see and takes the rough edge off the top of the stake. After using these stakes,  however, it became evident that they could be a hazard if anyone fell on them, so I welded small cast iron balls to the top of each stake, then dipped them in the yellow rubber coating . The ball on the end eliminates the danger, makes them very easy to see and line-up in a row, and easy to push into the ground any time of the year.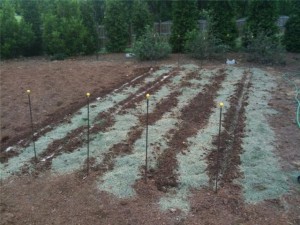 We have two sizes of stakes, 1/4″ x 3′ and 3/8″ x 4′, and have about 60 of the 3′ size and 20 of the 4′ size. Although it sounds like a lot of stakes it really isn't when they are constantly used for holding  floppy plants and marking vegetable rows during the summer.  They are easily installed and then removed when the need passes and are used over and over as the season progresses.   And because we have an abundant number of them available, they are used to solve an ever expanding list of problems as they arise.
Although these metal stakes cost more then those made of wood or bamboo, they last forever and are a very good solution to a repetitive need in the garden. And I would say, next to the shovel and hand trowel, these stakes are the best garden tool we use!
Materials needed to make the stakes:

Concrete reenforcing bar is available from building supply companies in lengths that are easily cut with a hack saw.


Cast iron balls (3/4″ dia.) are available from welding or decorative iron suppliers.


Yellow rubber-like coating (Performix Plasti Dip) is available from local building supply and hardware stores or Amazon.com.