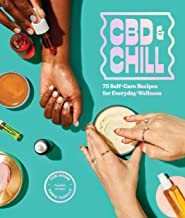 CBD & Chill provides a guide to the use of CBD and includes recipes using CBD for everyday wellness and beauty. The introductory material discusses what CBD actually is (and is not), the interaction between CBD and your body, finding right CBD product, determining the correct dose, and choosing the best delivery method . The bulk of the book is devoted to recipes, 34 for treats and drinks, 41 for beauty, skin care, and topical remedies. Written by Tori Bodin and Chris Tarello, founders of Dazey CBD, the book aims to destigmatize CBD and reflects the authors' belief that life should be enjoyed with "no bad daze".
The first group of recipes is devoted to food and divided by purpose: staple infusions (like butter), breakfast, snacks, desserts and drink, and pets. Included in this group are recipes for golden beet chips, Moscow mule, and chia pudding. The second group is divide into 3 groups (face, body, and hair) and includes face masks, personal lubricant, and mustache wax. The entry for each recipe includes introductory remarks, key benefits, amount made, list of ingredients including CBD oil, and step by step directions presented in list form. The amount of CBD oil is easy to measure and add by using a dropper. A glossary and links for obtaining supplies is included.
The text is chatty, up beat and informative. Photographs enhance the text but are more decorative than essential to meaning. The pink and blue color scheme of the book cover heightens the youthful approach to the subject and reflects the optimistic benefits of CBD.
To buy CBD & Chill from Amazon, click here.