Often called wallflower or blister-cress, Erysimum is a genus of about 150 species in the mustard family, Brassicaceae, that also includes cabbage, alyssum, and stock. The plants may be annuals, herbaceous perennials, or sub-shrubs but the perennials tend to be short lived and are often grown as biennials. Most species have branched stems, simple, narrow leaves and elongating racemes of yellow, orange, pink or red star-shaped flowers from spring into the summer. The fruit is a dehiscent seed pod (silique). Wallflowers like full sun to partial shade (in the South), medium moist, well-drained, limy soil, and may be drought tolerant but not tolerant of heat and humidity. Six species and several hybrids are good choices for the garden especially rock, wall, and container gardens. The genus name, Erysimum, is from the Greek word eryo meaning to drag .
Siberian Wallflower (Erysimum allionii)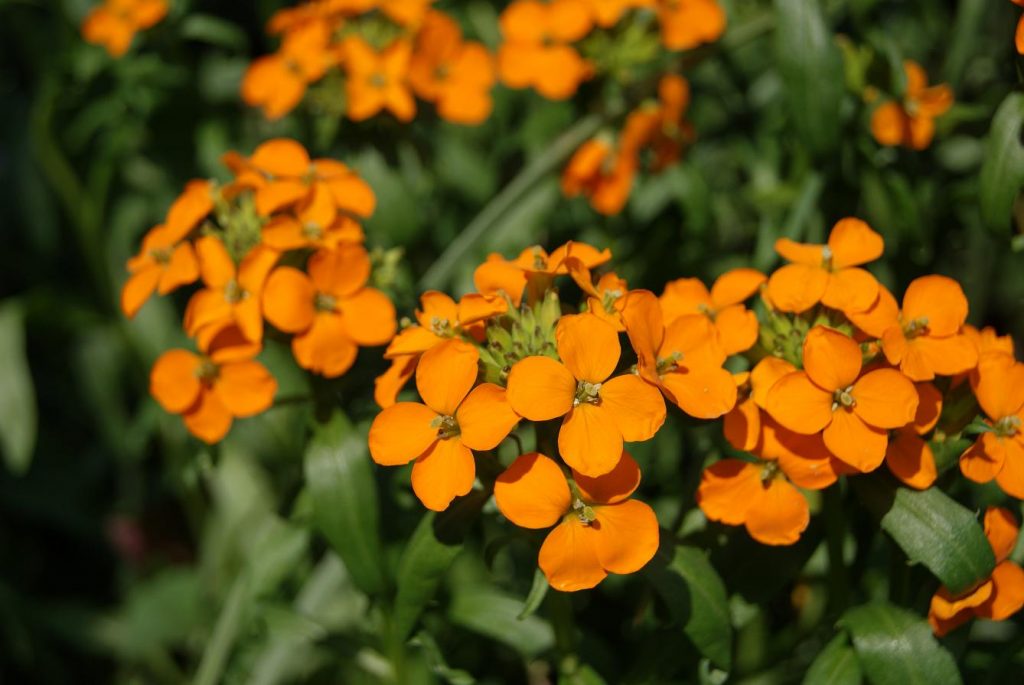 Both the nomenclature and history of this bushy biennial or short-lived perennial is uncertain, but records show that Thomas Jefferson grew the plant at Monticello. The plants grow 18-24″ tall and have evergreen lanceolate leaves up to 3″. The orange flowers are attractive to bees, hummingbirds and butterflies.
Height: 18-24″
Bloom Color: Orange
Hardiness : Zones 4-9
Western Wallflower (Erysimum capitatum)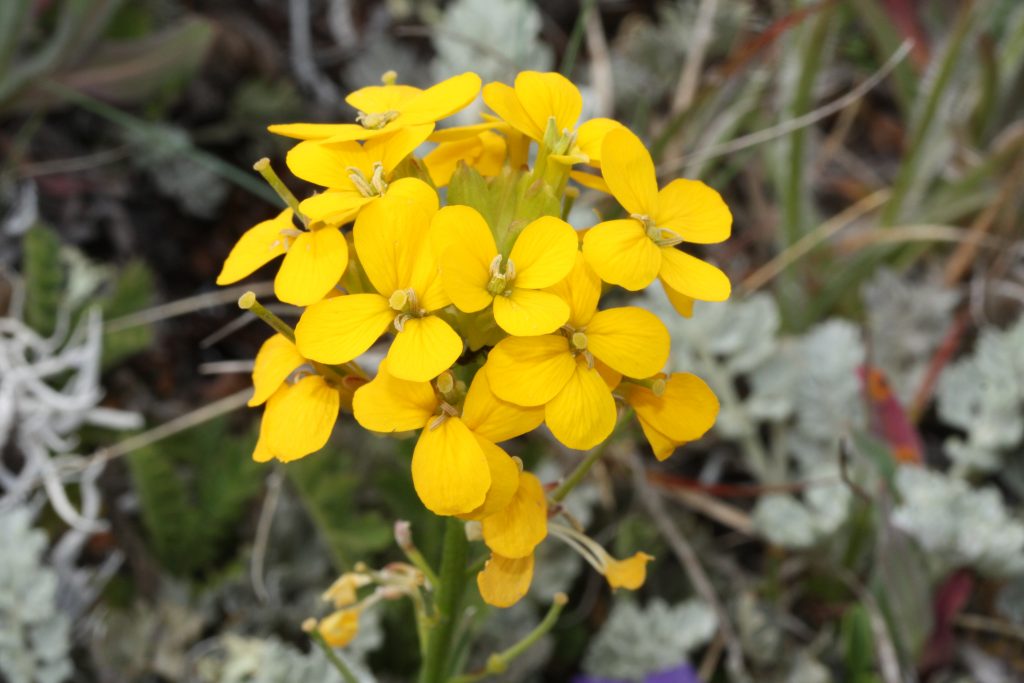 Also known as sanddune wallflower and prairie rocket, this herbaceous biennial or perennial is native to central and western North America. It grows 1-2′ tall and forms a basal rosette of narrow oblong leaves that are up to 3″ long. From late spring to mid summer, dense rounded clusters of yellow, orange, reddish, purple or almost white flowers appear on top of leafy stems. The flowers are 3/4″ wide, have 4 petals, and are attractive to bees, butterflies and other pollinators. The 4″ long seed pod is 4- angled and hangs almost parallel to the stem. Western wallflower tolerates drought and lean soil, and is a good choice for butterfly, native plant, and rock gardens especially in xeriscapes.
Height: 1-2′
Bloom Color: Yellow, orange, reddish, purple, nearly white
Hardiness: Zones 3-7
Aegean Wallflower (Erysimum cheriri)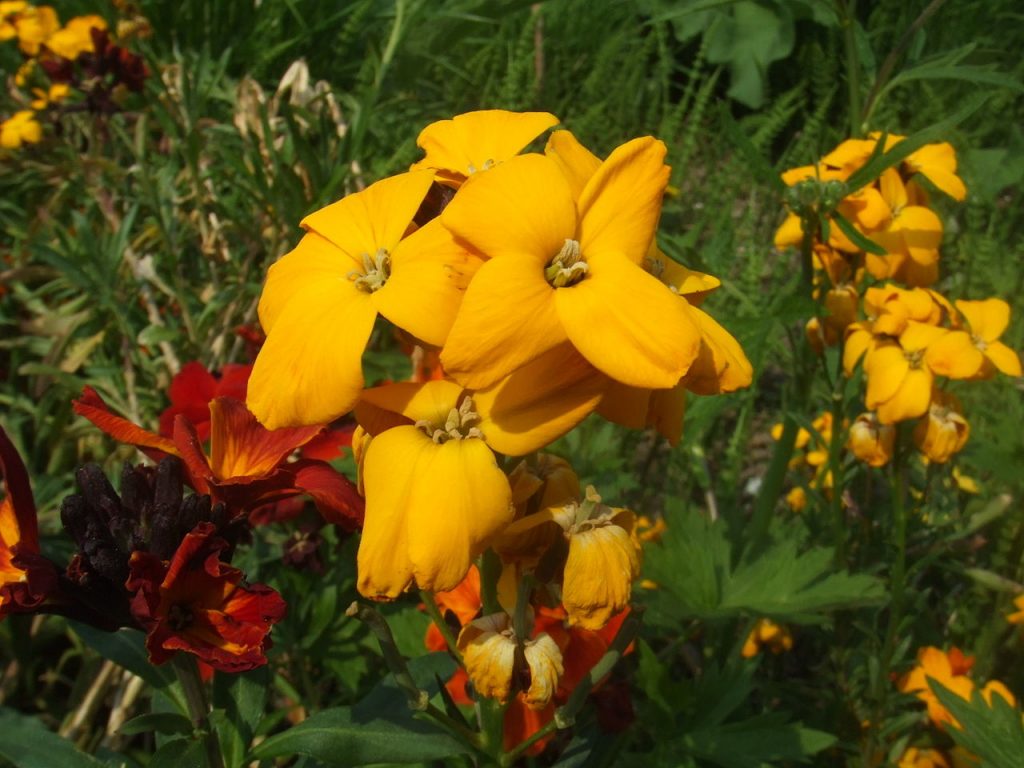 This perennial subshru,b often grown as an annual or biennial, is native to Greece. It grows 6-24″ tall and may be woody at the base with one to many highly branched stems growing from a rosette of long narrow pointed leaves that are 2-8″ long . In spring, club-shaped clusters of 10-30 flowers appear on leafy stems. The flowers are 3/4″ wide and have 4 petals that are bright yellow or yellow-orange to brown, sometimes with reddish purple or burgundy touches. Attractive to butterflies and moths, the flowers are also good in the vase. Cultivars are available in varying colors from cream to dark red. With a tolerance to drought, maritime conditions, and lean soil, Aegean wallflower is a good choice for coastal, rock, and wall gardens as well as containers.
Height: 6-24″
Bloom Color: Yellow, yellow-orange to brown with purple or reddish touches
Hardiness: Zones 7-9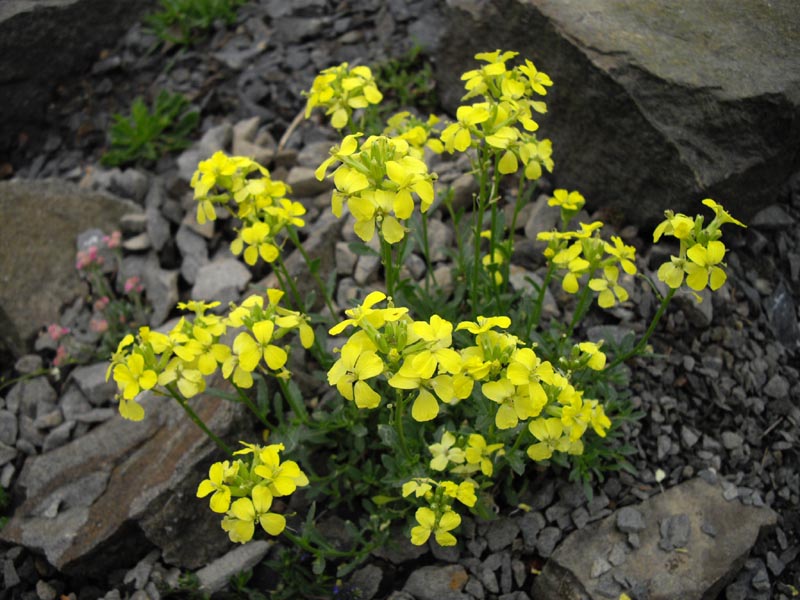 Kotschy Erysimum (Erysimum kotschyanum)
Native to Asia Minor, the plants form a tuft of foliage 3-6″ high with narrow basal leaves that are 1/2″ long and finely toothed. The yellow flowers are 1/2″ long and long lasting in the vase.
Height: 3-6
Bloom Color: Yellow
Hardiness : Zones 4-8
Alpine Wallflower (Erysimum latifolia)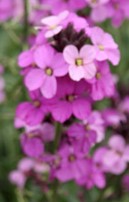 This Iberian native forms loose mounds of wiry stems and is often decumbent although cultivars such as 'Bowles Mauve' are more upright. The gray-green leaves are complemented by dense clusters of purple flowers ¾" long that are attractive to butterflies.
Height: 12-15″
Bloom Color: Purple
Hardiness : Zones 5-8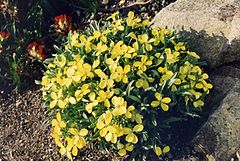 Tufted Erysimum (Erysimum pumilium)
Native to the European Alps, this tufted compact plant grows 1-6″ tall and has gray-green toothed leaves and pale yellow, slightly fragrant flowers. This species of Erysimum is more perennial than other members of the genus and is valued for borders as well as rock, scree, wall, alpine, and container gardens.
Height: 1-6″
Bloom Color: Yellow
Hardiness : Zones 4-7