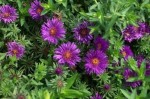 The deep purple daisy-like flowers with bright gold centers make 'Purple Dome' a standout in the garden. Blooming at a time when other plants are fading, it gives a fresh and new look to the garden. The bushy, compact plants are attractive throughout the growing season and are usually completely covered with small attractive flowers from mid August through September. Because it is only 18- 24" high it doesn't flop or need staking, unlike many other New England asters, and can be used at the front of the border or as an edger. It is easy to grow in any decent garden soil, attracts butterflies and birds, and is a good cut flower.
Type: Herbaceous perennial.
Bloom: Bright purple, 1-1½" wide flowers with bright golden eyes from mid August through September.
Size: 18″-24″ H x 24″-36″ W.
Light: Full sun.
Soil: Medium to wet, well drained, average soil.
Hardiness: Zones 4-8.
Care: Divide in spring every 3 years to keep plants vigorous.
Pests and Diseases: Disease resistant.
Propagation: Divisions in spring.
Companion plants: Goldenrod (Solidago ( 'Golden Fleece' ), Agastache cana , garden mums (Chrysanthemum x morifolium), purple muhly grass (Muhlenbergia filipes).