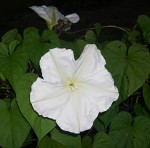 We had a great need for a fast growing vine so planted moon vine. Wow, did it ever grow and then to our delight started producing saucer-sized fragrant white blooms. True the flowers are only open in the evening but given the fact that they are huge I can overlook this shortcoming. I like going out in the garden after dinner to see the flowers unfurl from the twisted buds that formed during the day. I have to be very lucky to do so and I consider it is a real treat to see it happen. This is one very special vine!
Type: Tender perennial vine.
Bloom: 6" wide white fragrant flowers appear from summer into fall.
Size: 20'+ in length.
Light: Full sun to partial shade.
Soil: Fertile, moist, well drained soil.
Fertilizer: Apply liquid fertilizer such as 15-30-15 every 2 weeks.
Care: Provide support and training (like a fence, trellis, or arbor). Plants climb by twining and so you need to provide a structure on which they can climb as well as some assistance in getting them to climb (i.e. twin the vines around the structure to give them the idea).
Pests and Diseases: Root rot can cause problems if the soil is wet. No other significant problems.
Propagation: Collect seed after the first frost and store in envelopes sealed in a canning jar. Self-seeding: seeds left on the vine over the winter will drop to the ground in the Spring and grow.
Comments: Seeds need to be soaked for 23-48 hours and/or nicked to promote germination. Moon vine does not transplant well so plant it where you want it to grow. Plants climb by twining so you need to provide a suitable support.