buy discounted cytotec online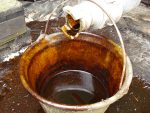 The use of molasses to brew beer goes back to colonial times when a source of sugar to feed the yeast was hard to find.  Squash, bran, maize, parsnips, and persimmons were all  available and used but molasses was the most popular.  George Washington included a recipe for making beer with molasses  in the journal he wrote in 1757 while serving in the French and Indian War.  Other written evidence indicates that the colonists found the molasses beer an excellent, healthful and cheap drink.  My paternal grandmother, Helen S. Wright included a recipe for molaaes beer in her book, Old Time Recipes for Home Made Wine which was published in 1909 by a Boston publisher.
Here is the recipe for molasses beer in the words of my grandmother:
One ounce hops, one gallon water. Boil for ten minutes, strain, add one pound molasses, and when luke warm, add one spoonful yeast.  Ferment.
To buy can Lurasidone be bought over the counter Old Time Recipes for Home Made Wines by Helen S. Wright from Amazon.com  Click Here.
Photo Credit: Wikipedia*+