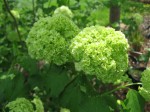 I grow one of these wonderful plants for the chartreuse flowers that are produced in early spring. There presence in a flower arrangement is awe-inspiring and I combine them with flowering cherry, iris, and any other plants that are blooming, to give depth to the arrangement. In a few weeks they give way to large, soft ball sized, white, hydrangea-like flower heads that are also attractive but not nearly so eye catching and I combine them with lilacs, weigelia, and later blooming iris. The flowers are not fragrant, a plus when combining them with flowers as fragrant as lilacs. The shrub that produces these wonderful flower heads fades into the background as spring turns into summer and slowly matures into a dense round shrub that serves as a good background for other plants that take over during the summer.
Type: Deciduous flowering shrub.
Outstanding Feature: Chartreuse immature flower heads.
Form: Round.
Growth Rate: Moderate to rapid.
Bloom: Small immature chartreuse flowers are borne in compact heads in early spring and are followed by dense, round, softball sized heads of white flowers.
Size: 12-20' H x 12-20' W.
Light: Full sun to part shade; afternoon shade in South.
Soil: Fertile, moist, well-drained.
Fertilizer: Apply all purpose fertilizer in spring.
Hardiness: Zones 6-9.
Care: Prune after flowering if necessary.
Pests and Diseases: Susceptible to viburnum beetle, gray mold (Botrytis), rust, downy mildew, powdery mildew, wood rot, Verticillium wilt, leaf spots, and dieback, aphids, scale insects, weevils, Japanese beetles, mealybugs, and tree hoppers.
Propagation: Greenwood cuttings in spring.