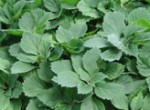 This native of eastern United States is a slow growing herbaceous perennial that forms attractive clumps that are evergreen in zones 7 and warmer. It is amember of the box family Buxaceae, that also includes boxwood.  The bluish green leaves are mottled with silvery dots and have scalloped margins that are coarsely toothed. Spikes 1-4 inches of small pink to white fragrant flowers appear in mid spring with male flowers at the top and female flowers below. Stems are fleshy and the root system is stoloniferous. It is much less invasive than its cousin, Asiatic Pachysandra terminalis, and makes an excellent groundcover for a shrub border or massed in a woodland setting.  The genus name, Pachysandra, comes from the Greek words, pachys meaning thick and aner, andros, meaning stamens, and refers to the thickened white filaments of the stamens.  The specific epithet, procombens, comes from the Latin pro meaning forward, and -cumbere, to lie down, so means to fall forward, refering to the trailing habit.
Type: Herbaceous perennial
Bloom: Spikes 1-4 : tall of small pink to white fragrant flowers appear in mid-spring
Size: 6-12" H x 12" W
Light: Dense to light shade
Soil: Average, well-drained, acidic ; tolerates all but very dry soils
Hardiness: Zones 5-9
Care: Low maintenance
Pests and Diseases: Susceptible to slugs, snails, stem rot, and leaf spot.
Propagation: Division; softwood cuttings in early summer
Companion plants: Trillium, Solomon's seal, jack in the pulpit, ferns.