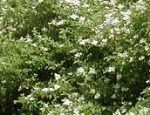 Native to northern China this dense shrub is deciduous in cold climates, semi-deciduous in colder ones. It grows 12-15' tall and is a member of the olive family, Oleaceae, that also includes jasmine, lilac, and forsythia. The elliptical to oblong leaves are up to 2.5" long and are dull green above with hairs on the underside midribs. Small white flowers attractive to butterflies are carried in two inch long panicles in late spring to early summer and have an aroma that some people find unpleasant. The green oval fruits contain one seed and ripen to black in the fall, persisting into winter. Plants are tolerant of urban conditions, and many different soils except wet ones and transplant easily. They respond well to pruning and are useful in hedges, screens, and foundation plantings. Plants naturalize by self-seeding and may form thickets so are considered invasive from Maine to Michigan, south to Florida and Texas; Montana and Oregon, south to Utah and California. The genus name, Ligurstrum, is the Latin name for the plant. The specific epithet, amurense, refers to the Amur River that forms part of the border between China and Russia.
Type: Deciduous to semi-deciduous shrub
Outstanding Feature: Dense foliage
Form: Vase shape to rounded; easily pruned to desired shape
Growth Rate: Rapid
Bloom: Panicles of small white odoriferous flowers in late spring to early summer
Size: 12-15' H x 8-15' W
Light: Full sun to part shade
Soil: Average, dry to medium moist, well-drained
Hardiness: Zones 3-7
Care: Prune in the spring before flowering to encourage density if desired.
Pests and Diseases: Generally healthy but susceptible to anthracnose twig blight, canker, powdery mildew, leaf spot, aphids, leaf miners, mites, and whiteflies
Propagation: Seed, softwood cuttings