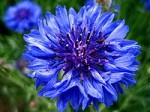 Also known as bluebottle, bluet, and bluecap, this cool weather annual is a member of the aster family, Asteraceae, that also includes daisy, sunflower, and lettuce.  It  is native to  Europe where it is now endangered in some areas due to habitat destruction, but was introduced into North America where it has done well and has become invasive in some areas because of its tendency to self seed.  The narrow plants grow 1-3′ tall  and have numerous gray-green branches and lanceolate gay-green leaves. The 1-1.5″ wide flowerheads are comprised of many small ray flowers around a center of disc flowers and held together by an involucre of overlapped bracts.   The flowers bloom from late spring throughout the summer in cool climates and are usually bright lavender blue but cultivars in pink, rosy red, and white are available.  They are excellent cut flowers.  The genus name, Centaurea, is from the Greek word kentauros meaning centaur and refers to the myth that a plant in this genus healed the centaur Chiron, a half-man- half horse creature of Greek mythology.  The specific epithet, cyanus, is an old name for a dark blue substance and refers to the flower color.
Type: Annual
Bloom: Blue, pink, rosy red, and white flowers in spring to early summer; all summer in cool areas if deadheaded.
Size: 1-3' H x 6-12" W.
Light: Full sun to afternoon shade.
Soil: Average, moist well drained.
Care: Low maintenance.
Pests and Diseases: None of importance but susceptible to white mold, rust, downy and powdery mildew, thread blight, and Southern blight.
Propagation: Seed.
Companion plants: Annual sage, lupines, and  other wildflowers especially field poppies and corn marigolds.
Outstanding Selections:
'Black Gem' (silvery leaves, dark maroon flowers, 2′ tall)
'Blue Bottle' (deep blue flowers, 12″ tall)
'Blue Diadem' (2.5″ wide flowers with blue petals and dark blue to black centers)
Dwarf Midget (1″ wide flowers in various colors including pink, mauve, red, blue, and white 1″ , 12″ tall)
'Emperor William (dark blue flowers, 2-3″ tall)
Florence series (various colors including blue, lavender, pink, red, violet, and white, 18″ tall)
'Frosty' aka 'Frosted Queen' (various colors each with white edged petals, 20″ tall)
'Jubilee Gem' (double bright blue flowers, 2′ tall)
'Pinkie' (light pink flowers)
Polka Dot Mix (various colors of double flowers, 2′ tall)
'Red Boy' (rose red flowers, 2.5′ tall)
'Snowman' (creamy white flowers, 2.5-3′ tall)