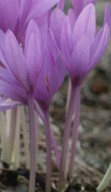 Although the common name suggests a relationship to the spring blooming crocus, they are two very separate kinds of plants and are not even in the same botanical family. The autumn blooming crocuses, also called naked ladies and giant meadow saffron, are native to northern Turkey, the Caucasus, and Iran. The generic name, Colchicum, comes from the Colchis, a region on the Black Sea in Georgia. Autumn crocus is a cormous clump- forming perennial that produces its leaves in the spring and its flowers in the fall long after the leaves have disappeared from sight, giving rise to the common name, naked ladies. The strap-shaped leaves are coarse, broad and eight to ten inches long. Each corm produces one to three goblet-shaped, three inch long flowers that are lavender pink with pale green or whitish stem-like perianth tubes.
Type: Perennial corm
Bloom: Goblet-shaped, 3" long lavender pink flowers in fall
Size: 8-10" H x 4" W
Light: Partial shade
Soil: Fertile, humis-rich, moist, well-drained
Hardiness: Zones 4-9
Care: Plant corms 4" deep in late summer or early fall.
Pests and Diseases: Slugs, gray mold ( Botrytis)
Propagation: Fresh seed planted when ripe; division of corms in summer after foliage has died
Companion Plants: Since leaves die by summer, plant corms among plants that will cover the bear spot until fall when flowers emerge. Ground covers such as Vinca minor, Galium odoratum, colorful ornamental sweet potato such as 'Backie' or 'Margarita', and Pachysandra terminalis or P. procumbens are good choices. The foliage of purple leaved Heuchera, or Ophiopogon planiscapus 'Nigrescens' make a pleasing color combination. Alternatively, use as a planting under shrubs such as roses, hydrangeas, or rhododendrons.
Outstanding Selection: 'Alba' (white flowers).