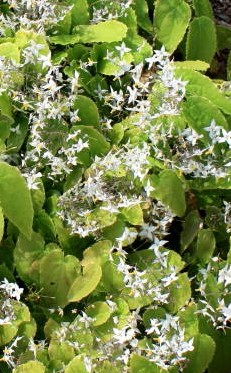 Also called fairy wings and short root barrenwort, this herbaceous perennial is a member of the barberry family, Berberidaceae, and native to the Wudang Mountains of central China where it grows on wooded slopes. It is clump forming and spreads slowly by rhizomes. Its trifoliate leaves are pink tinted with crimson when they first emerge and have arrow-shaped leaflets up to four inches long with spiny, serrated margins. The flowers are produced in spring on arching wiry stems twelve inches long in clusters of twenty to forty. They are about ½ inch long and have four white petal-like sepals that spread outward around a center of prominent yellow stamens.
Type: Herbaceous perennial
Bloom: White star-like ½" flowers on wiry arching stems stems in spring
Size: 9-18" H x 9-18" W
Light: Part to full shade
Soil: Humus rich, consistently moist, well-drained, acid; tolerates dry soil but not alkaline soil.

Hardiness: Zones 4-8
Care: Remove old foliage in winter before new growth appears
Pests and Diseases: Generally pest and disease free but susceptible to mosaic virus. And vine weevil.
Propagation: Division in spring or autumn
Companion Plants: Tiarella, Heuchera, hosta, ferns