Blue Grama (Bouteloua gracilis)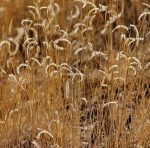 Also called mosquito grass, this warm-season tufted perennial  is native to southern and western US  where it was the dominant grass in the short grass prairie and grows in the plains as well as open rocky woodlands and abandoned sites. It is is a member of the grass family, Poaceae, that also includes bamboo, rice, and corn.  The narrow,  green to  bluish gray leaves form dense clumbs 12-15″ tall that turn golden brown in the fall sometimes with red or orange tints.  The purplish-red flowers appear in 2″ long, comb-like spikes above the foliage on arching stems 24″ long from early to late summer.  The spikes form horizontally on one side of the stem and resemble a swarm of mosquitos or other insect.  Plants are very drought tolerant and can be used in beds, borders, meadow, prairie, rock, container, or native plant gardens and are especially valuable in xeriscapes.  The flowers are attractive in dried arrangements. The genus name, Bouteloua, honors two Spanish 19th century brothers,  Claudius and Exteban Boutelou,  who were professors of botany and agriculture, respectively.  The specific epithet, gracilis, is the Latin word meaning slender or graceful.
Bloom: Perennial grass
Size: 8-24″ H x 18-24″ W
Light: Full sun; tlerates some shade.
Soil: Average, dry to medium moist, well-drained
Hardiness: Zones 3-10
Care: Cut back in early spring before growth begins.
Pests and Diseases:
Propagation: Seed, division
Companion Plants: Purple coneflower, black eyed Susan, goldenrod
Outstanding Selections: 'Blonde Ambition'  (chartreuse flowers on taller  2 1/2′ tall stems)
Photo Credit: Patrick Alexander Wikimedia Commons