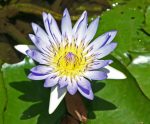 A member of the water lily family, Nymphaeaceae, this tropical aquatic perennial goes by many names including Egyptian lotus, blue water lily, Cape water lily, frog's pulpit, and sacred lily of the Nile.  It is native to parts of the Middle East, North Africa along the Nile, parts of eastern and southern Africa, and some of the nearby islands where it grows in freshwater lakes, pools and rivers. The plant grows from a tuberous rhizome and has long spongy green petioles bearing peltate leaves that are 3-17″ long and may float or lie sumerged under the surface of the water. The undersides of the leaves have a conspicuous midrib with  lateral veins on each side.  The fragrant flowers are 3-5″ across and appear in mid- to late summer on the surface of the water opening from mid morning until dusk for about 4 days.  Each flower consists of a central cluster of 100-200 stamens surrounded by 4 green sepals and 14-20 oblong petals that may be blue, white, mauve, or pinkish.   The fruit is a round flattened berry containing  seeds with a fleshy bell shaped aril. The blue lotus has been grown since ancient Egyptian times when it was used in burial rites,  for making votives, and as an ornament in garden ponds.  It was associated with the origin of life in Egyptian mythology and frequently shown along with the white lotus in stone carvings.  Its mild sedative qualities suggest that it might have been fruit of the lotus tree mentioned in Homer's Odyssey.  In addition the rhizomes are edible.  Plants are associated with the snail that carries the pathogen for human schistosomiasis.   The genus name, Nymphacea, comes from the Greek word numphaios and means sacred to the nymphs.  The specific epithet, caerulea, is the Latin word meaning blue.

Type: Tropical aquatic perennial
Bloom: Star shaped, day-blooming blue flowers in summer
Size: 8-12″ H x 6-8′ W
Light: Full sun to part shade
Soil: Still or slow moving fresh water
Hardiness: Zones 10-12
Care: Protect from wind; in climates colder than zone 10, rhizomes must be lifted and either kept in damp sand or peat in a cool dark place or in 70 degree water with at least 14 hours of daylight.
Pests and Diseases: None of significance but may be susceptible to damage by aphids and leaf mining midges.
Propagation: Seed, rhizomes.   In spring, plant rhizomes in containers at a 45 degree angle with the bud end up and slightly above the soil surface.  Containers with plants can easily be moved to water  9-16″ deep when water temperature is 70 degrees.
Companion Plants: White water lily, water hyacinth, water lettuce
Outstanding Selection: 'Valentina's Pale Blue Eyes'
Photo Credit: Wikimedia Commons