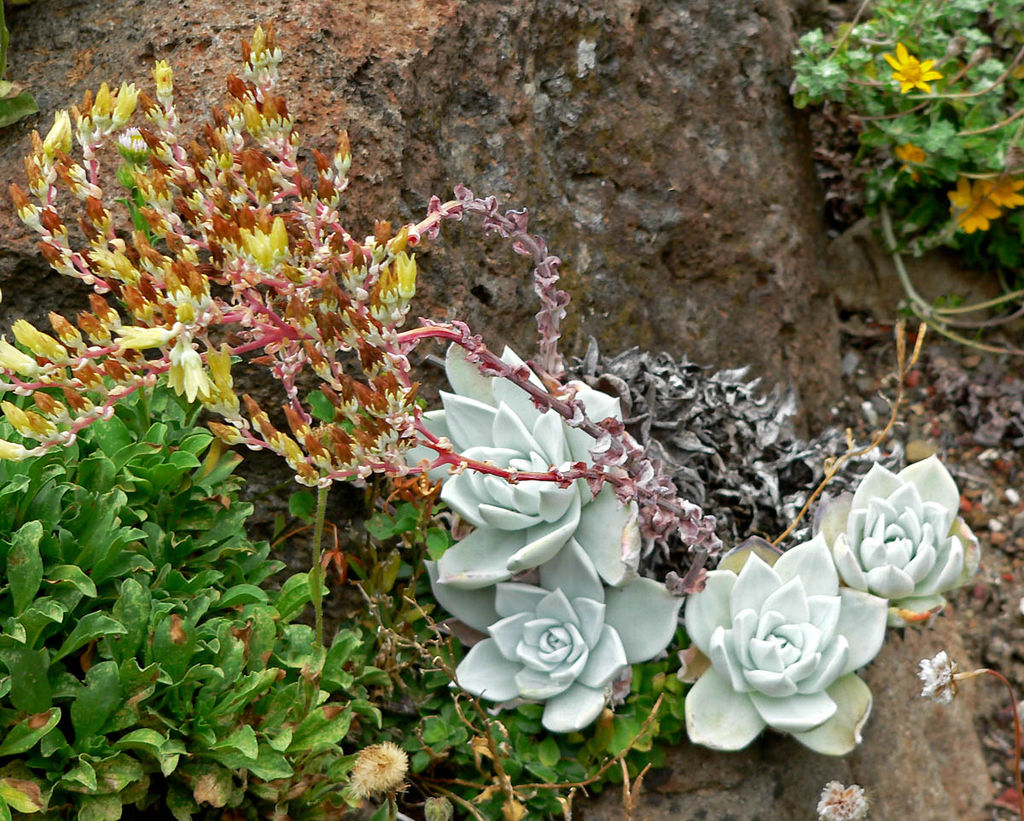 Also known as powdery liveforever, and powdery dudleya, north coast dudleya, and sea lettuce, this evergreen succulent is native to the coastlines of northern California and Oregon where is grows on bluffs and coastal hillsides. It is a member of the stonecrop family, Crassulaceae, that also includes sedum, jade plant, and hens and chicks. The plant grows from a branching woody base and forms a rosette of leaves 4-8″ tall and 12″ across. The fleshy leaves are up to 2.4″ long, spade-shaped, and very pale green or chalky white but often with bright red edges or tips when conditions become particularly dry. From late spring to early fall, terminal clusters of bright lemon yellow, urn-shaped flowers appear on erect branching stems that are up to 12″ tall and pale green with pink or red tinting. The flowers attract hummingbird and butterflies. Plants develop their best red color when dry and may become dormant during the summer when water is lacking. They are tolerant of drought, salt spray, and lean soil and are a good choice for coastal, native plant, wall, rock, wildlife, butterfly, and hummingbird gardens. The genus name, Dudleya, honors William Russel Dudley (1849 – 1911), a botanist who taught at Cornell and Stanford. The specific epithet, farinosa, is the Latin word meaning floury, and refers to the color of the leaves.
Type: Evergreen succulent
Bloom: Clusters of lemon-yellow, urn-shaped flowers from late spring to early fall
Size: 4-8″ H x 8-12″ W
Light: Partial sun
Soil: Rocky, dry, very well-drained
Hardiness: Zones 9-11
Care: Resist the temptation of to overwater.
Pests and Diseases: Mealybugs, aphids, snails, slugs
Propagation: Seed, cuttings, division of offsets
Companion Plants: Red maidens (Calandrinia ciliata), seaside daisy (Erigeron glaucus), giant coreopsis (Leptosyne gigantea)
Outstanding Selections: none available
Photo Credit: Stan Shebs Wikimedia Commons