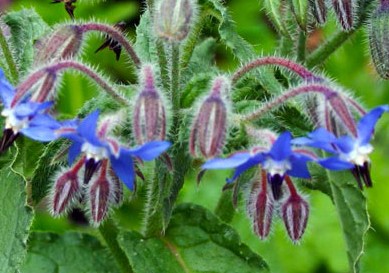 Borage is an annual herb native to south eastern Turkey but has naturalized in the Mediterranean area, North America, and parts of Europe. The Romans fed it to gladiators and brought it to England, while later the crusaders drank a tea of borage before they went into battle. The plant is branched and grows two to three feet high. It has a hallow, succulent stem that carries dark-green wrinkled leaves that are up to six inches long. Both stem and leaves are covered with stiff hairs. The star-shaped flowers have five triangular petal and are produced in loose clusters all through the summer. They are Wedgwood-blue, occasionally pink or white, and have prominent black stamens and hairy sepals. Plants self-seed readily and come back year after year. The leaves have a cucumber taste and are often eaten raw or cooked. The edible flowers have a mild honey flavor and are often added to salads for both color and taste. Borage has a long history as a medicinal herb especially to treat arthritis but the benefits may not be worth the problems associated with its use. The seeds contain gamma-linolenic acid and borage is sometimes cultivated for its seed oil. Bees love borage and the honey produced is excellent.
Type: Annual herb
Bloom: June to September, Wedgwood blue with five triangular petals and black stamens
Size: 2-3 ' H x 2' W
Light: Full sun but tolerates some shade.
Soil: Average, moist, well-drained
Care: Low maintenance
Hardiness: Zones NA (annual)
Pests and Diseases: Susceptible to Jpanese beetles, aphids, springtails, and wheat bugs.
Propagation: Seed, division, cuttings
Companion Plants: Strawberries (to increase the yield of the strawberries)