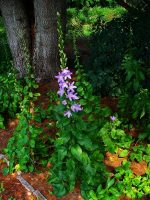 Chimney bellflower is a short-lived herbaceous perennial and a member of the Campanulaceae family that also includes balloon flower, ladybells (Adenophora) and Lobelia.  It is native to southeastern Europe including Italy and the western Balkans but is naturalized in southern Britain. Plants grow 3-6′ tall and have branched stems with 2″ long ovate toothed basal leaves on 6-8″ long petioles.  Leaves on the upper part of the stem are smaller, lanceolate, and tend to be sessile. The 1″ pale blue  flowers are  bell-shaped and produced in  12-15″ long racemes that arise from the leaf axils in summer.  More flowers  open at the base of the inflorescence  than at the top resulting in a pyramidal shape. Chimney bellflower does not tolerate heat and humidity and may need staking;  it is attractive in informal settings such as a cottage or woodland garden.   The genus name, Campanula, comes from the late Latin word campana meaning bell and refers to the form of the flowers.  The specific epithet, pyramidalis, is the Latin word for pyramidal and refers to the form of the inflorescence.  
Type: Short-lived herbaceous perennial
Bloom: Pale blue  1″  bell-shaped flowers in  12-15″ long racemes that arise in summer.
Size: 3-6′ H  x 2-3′ W
Light: Part shade to full sun, consistently moist, well-drained
Hardiness: Zones 3-7
Care: Low maintenance
Pests and Diseases: Slugs
Propagation: Seed,  basal cuttings in spring, division in spring or fall (but new plants will take a long time to become established),
Companion Plants: Spiderwort, astilbe, hardy fuchsia
Outstanding Selections:
var. alba (white flowers but not as hardy as type)
'Compacta' (dwarf 2-3′ tall, lacks pyramidal inflorescence)
Photo Credit: H. Zell