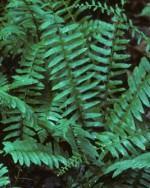 Grown for its glossy, leathery evergreen fronds, Christmas fern makes an attractive addition to a woodland garden all year long. It is clump-forming and compact, and stays neat looking all year long. Silvery fiddleheads emerge in spring and slowly unfurl as the previous year's frond turn brown. Fronds are light green at first but turn dark green and they mature. After the first frost fronds are usually lying on the ground in a swirl and help keep leaves falling from the trees in place. A native of moist woodlands of the Northeast, Christmas fern is easy to grow and can be used in a formal shade garden as well as an informal woodland garden. The common name comes from the gathering of fronds for use as Christmas decorations.
Type: Evergreen perennial
Bloom: Spores found on the undersides of terminal pinnae of fertile fronds. Fertile fronds are taller than other fronds in the clump
Foliage: Once divided fronds produced in clumps
Size: 1-3' H x 1-3' W
Light: Part shade to shade
Soil: Thrives in humus-rich, moist, well-drained,acid-based soil but tolerates drought once established.
Hardiness: Zones 5-10
Care: Low maintenance
Pests and Diseases: Crown rot in poorly drained soils
Propagation: Division in spring; spores can be sown when ripe at 59-61 F.
Companion plants: Black cohosh (Cimifuga racemosa), wild ginger (Asarum canadense), Solomon's seal (Polygonatum biflorum), hostas, goat's beard (Aruncus dioicus), Chinese astilbe (Astilbe chinensis pumila).