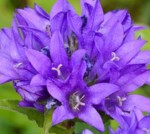 Clustered bellflower is a clump forming herbaceous perennial native to Eurasia where it grows in a variety of habitats including forests, grasslands, scrub, and along roadsides. It is a member of the bellflower family, Campanulaceae, that also includes Lobelia and balloon flower. The leaves are oval, toothed, and hairy. The basal leaves are up to five inches long while the stem leaves are three to four inches long, usually sessile, and more pointed than the basal leaves. The funnel-shaped flowers are ¾ to 1 inch long, upward facing, purple to violet in color, and are carried in terminal or axillary clusters of up to fifteen flowers. They are appear in the late spring to early summer and last two to three weeks. Plants spread by creeping underground stems and can become invasive if conditions suit them . Clustered bellflower is a good choice for cottage gardens, borders, and naturalized areas. Flowers are good for the vase and last up to two weeks. The generic name, Campanula, comes from the Latin word campana meaning bell and refers to the shape of the flowers. The specific epithet, glomerata, comes from the Latin verb glomero, meaning to form into a ball, and refers to the inflorescence. The common name, clustered bellflower is derived from the botanical name.
Type: Herbaceous perennial
Bloom: Clusters of funnel-shaped upward facing purple to violet flowers in late spring through summer
Size: 12-18" H x 12" W
Light: Full sun to partial shade; some shade needed in the South
Soil: Average, consistentently moist, well-drained, alkaline
Hardiness: Zones 3-8
Care: Deadhead to encourage more blooms; divide every 3-5 years to keep clumps attractive and healthy.
Pests and Diseases: None of significance
Propagation: Seed, division
Companion plants: Coreopsis grandiflora, daylily, Siberian iris, lady's mantle (Almellia mollis) rose campion (Lychnis coronaria), red valerian (Centranthus rubber, ferns
Outstanding Selections:
var. acaulis (dwarf, 3-5" tall, violet-blue flowers)
var. acaulis alba (8-12" tall, white flowers)
var. dahurica (12" tall, deep-violet flowers in clusters 3" across)
'Crown of Snow' (1 ½' tall, white flowers)
'Joan Elliot' (1 ½' tall, violet purple flowers)
'Superba' (2 ½" tall, violet flowers, most heat tolerant)
'Superba alba' (like 'Superba' but with white flowers)