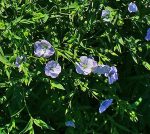 Native to Central Asia and the Mediterranean, common flax is an annual and a member of the flax family, Linaceae. Plants grow 12-36″ tall and have terete grayish-green branched stems and gray green lanceolate leaves 1-2″ long. The blue, white, or pale pink summer blooming flowers appear in terminal, leafy racemes and give way to seed heads that may be used like baby's breath in dried arrangements. Common flax is not a good garden plant and is usually grown for food, linseed oil, and fiber for making linen. The genus name, Linum, is the classical Latin name for the plant. The specific epithet, usitatissimum, is the classical Latin word meaning very useful.
Type: Annual
Bloom: Terminal leafy racemes of blue, white or pale pink flowers in summer
Size:12-36″ H x 15″ W
Light:Full sun
Soil: Average to lean, moderately moist, well-drained
Hardiness: NA
Care: Depending on the geographic location and use of the plants water and fertility should be regulated.
Pests and Diseases: Wilt
Propagation:Seed, stem cuttings
Companion Plants: Often interplanted with spring wheat for weed control and/or rotated with cotton, sudangrass, grain sorghum or vegetables.
Photo Credit: Wikipedia