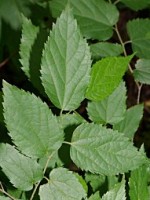 This medium to large deciduous tree is native to central and southeastern United States where it can be found along stream banks, on flood plains, and on the rocky hillsides of open woods. Growing forty to one hundred feet tall, with an almost equal spread, common hackberry has an irregular to rounded crown with spreading or drooping branches. The leaves are three to five inches long, rough textured, and medium-green on top with pale yellow-green below. They turn yellow in the fall but do not significantly add to autumn coloration. Inconspicuous flowers appear in spring and clusters of sweet, fleshy, berry-like fruits attractive to birds develop in the fall. The fruits are orange, to dark red or purple and may stain patios and sidewalks. The gray bark is corky and has conspicuous lenticels. Common hackberry is a good shade tree for harsh conditions. It adapts to many soil types and is tolerant of shade, pollution, and wind. Witches broom and nipple gall frequently disfigure the tree but do not threaten its longevity. Cultivars resistant to witches broom are available.
Type: Deciduous tree
Outstanding Feature: Shade tree with tolerance of harsh conditions
Form: Irregular or rounded crown with spreading or drooping branches
Growth Rate: Moderat to rapid
Bloom: In conspicuous male and female, sometimes perfect, flowers in spring; orange, red or purple fleshy, berry-like fruits in fall that are attractive to birds.
Size: 40-100' H x 40-100' W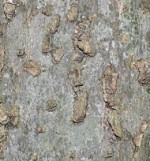 Light: Full sun prefered but tolerates some shade
Soil: Average, moist, well-drained but tolerates less
Hardiness: Zones 5-8
Care: Fruits can be a problem when they drop.
Pests and Diseases: Witches broom and nipple gall common; susceptible to powdery mildew, leaf spot, root rot, lacebugs, scale
Propagation: Budding, seed
Outstanding Selection: 'Praire Pride' (resistance to witches broom).