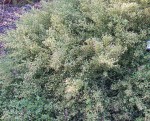 This evergreen shrub is native to coastal California and Oregon and is found in chaparral but is often used as a ground cover and to stabilize slopes.  It is a member of the aster family, Asteraceae, that also includes daisy, yarrow, and lettuce.  The plant grows up to two feet tall from a deep taproot, spreads six feet or more, and is densely covered with glossy green leaves that are fire-retardant. Male and female flowers appear on separate plants from summer into fall and are an important source of nectar for bees, predatory wasps, and butterflies. After blooming the female flowers have messy, cottony seeds from late fall into winter, so male plants are preferred for landscaping. The plant is drought and salt tolerant, and can grow in many climates and soil types but prefers full sun and well-drained soils. It only needs watering during hot, dry summers. The genus name Baccharis honors Bacchus, the Roman god of wine and vegetation.  The specific epithet, pilularis, comes from the  Latin word pilula which means a little ball and refers to the pill shaped flower heads.
Type: Evergreen shrub and ground cover
Outstanding Feature: Salt and drought tolerance; dense, attractive foliage
Form: Rounded mound
Growth Rate: Slow to moderate
Bloom: White or yellow male and female flowers are produced on separate plants in summer into fall.
Size: 2' H x 6-10' W
Light: Full sun to dappled shade
Soil: Average, well-drained
Hardiness: Zones 8-10
Care: Old woody branches and upright stems should be pruned in late fall.
Pests and Diseases: None of significance
Propagation: Seeds, softwood cuttings in summer
Outstanding Selections:

'Twin Peaks" (smaller dark green leaves)

'Pigeon Point' (lighter green leaves).
Photo Credit Wikipedia